Paving the path to an inclusive digital economy
07/08/2022
Visa is empowering innovation in Vietnam, supporting consumers and businesses to reach towards a digital economy.
The COVID-19 pandemic has accelerated an already strong shift towards digital across the world, redrawing how we live, work and pay. Visa's Consumer Payment Attitudes 2021 study1 shows that over half of Vietnamese consumers now regularly shop online and expect to be able to pay by card or mobile even in small physical stores.
"As the architect of many of the solutions enabling this change, Visa is leveraging its world-leading digital expertise to make sure this transformation is inclusive and equitable," said Ms. Dung Dang, Visa Country Manager of Vietnam. "We believe the digital economy will create global prosperity because economies that include everyone everywhere, uplift everyone everywhere."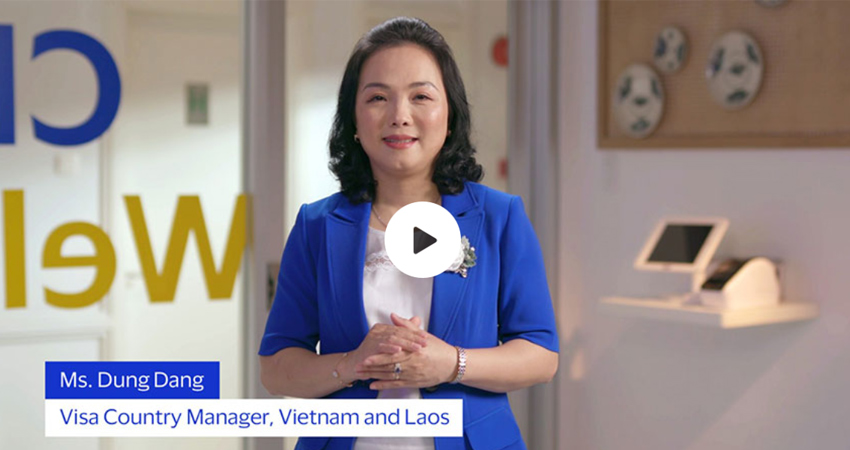 INNOVATION
Workable strategies to go digital and embrace innovation are becoming essential. Around 90 percent of small businesses with a digital presence attributed their pandemic survival to eCommerce, according to the 2022 Visa Global Back to Business Study2.
Visa is heavily invested in creating an ecosystem of services and technologies to empower users with secure, innovative transactions fitting their needs. Over the past five years, Visa has invested US$9 billion in cybersecurity to combat fraud and money laundering. Our principle of responsible innovation – keeping a safety-first approach while developing products and services for the digital economy – has been our guiding star.
"Innovation is the foundation of our business and is driving the future of money movement," explained Ms. Dung Dang. "Apart from building the tools of the digital economy, we are also supporting stakeholders across the spectrum to tap into digital."
For instance, the Visa Acceptance Fast Track Program helps small and medium businesses (SMBs) set up digital payment capabilities in a matter of minutes. The program allows them to avail themselves of Visa's leading digital expertise with minimal investment.
The strength of the Visa network lies in its diversity. Visa connects individuals, business and governments in myriad places and ways. The ubiquity of Visa services and its network make it more dynamic and inclusive, benefiting all participants.
Trust is the cornerstone of this. Visa operates the largest, most dynamic open network of technology, partnerships and people. Consumers want to know their money is safe when transacting with Visa, while business-owners rely on our ecosystem to provide speed and convenience to scale their businesses.
Dang, Visa Country Manager of Vietnam. "We believe the digital economy will create global prosperity because economies that include everyone everywhere, uplift everyone everywhere."
With increasing consumers' habit of cashless payment purchases, installments are flexing a new muscle for a new generation of consumers looking for flexible, uncomplicated ways to pay. Buy now pay later (BNPL) options are accelerating along with the rise in a range of digital conveniences – from shopping online to tapping to pay and curbside pickup. In fact, Visa has just launched a new partner program Visa Ready for BNPL enabling tech companies that would like to have their own BNPL solution reach Visa's vast network of clients, helping boost their visibility.
Visa continuously reinforces this trust by enhancing our security capabilities and rolling out new products and services to make digital transactions more accessible to all.
PROSPERITY FOR ALL
"Our company purpose is to uplift everyone everywhere by being the best way to pay and be paid," said Ms. Dung Dang. "This is our core belief and Visa is doing everything in our power to ensure our products and services are not only safe but widely accessible."
For the past ten years, Visa has also been promoting financial literacy among students and offering our repository of Practical Business Skills to practicing and would-be entrepreneurs. Through the Where You Shop Matters campaign, Visa has been supporting SMEs to digitalize their operations so that they can thrive under the new normal.
Visa is promoting equitable access to finance and entrepreneurship for women via the Visa Vietnam She's Next Program. Three winners out of ten finalists of women entrepreneurs will be selected in July 2022 to receive a $10,000 USD grant, plus IFundWomen Coaching membership to support the growth of their small business.
"We can only truly thrive when we do so together. Visa is building a network working for everyone," added Ms. Dung Dang.
1 The Visa Consumer Payment Attitudes Study was prepared by CLEAR in Aug-Sep 2021, surveyed amongst 6,520 consumers in Singapore, Philippines, Malaysia, Indonesia, Thailand, Vietnam, and Cambodia. The study conducted online interviews with 1,000 Vietnamese consumers across the country who are working part or full time with a demographic mix that sought to create a representative mix of ages and genders.