Visa and Ho Chi Minh City Department of Transportation sign MOU to deliver Smart Mobility
08/07/2019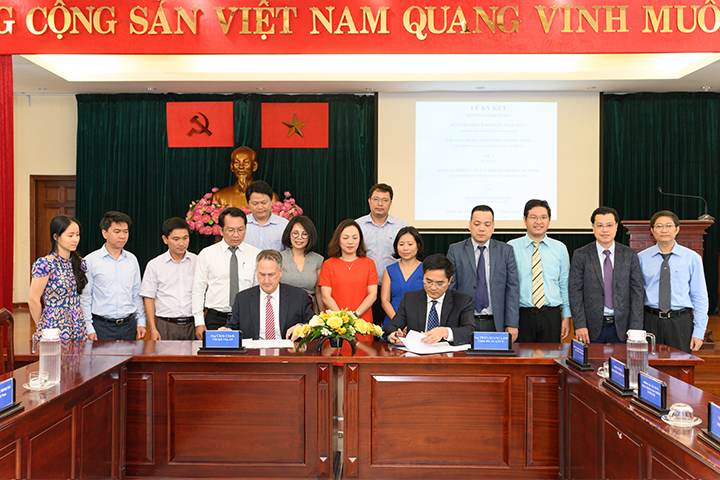 Visa, the world's leader in digital payments, and the Ho Chi Minh City Department of Transportation (HCMC DOT) have signed a memorandum of understanding (MOU) to drive the development and adoption of digital payments to achieve smart mobility in Ho Chi Minh City (HCMC).
This MOU is in support of HCMC's plans to become a smart city by 2017 – 2020, with a vision to 2025. As part of this, Visa and HCMC DOT intend to collaborate to increase the acceptance of digital payments and implement a secure open-loop payment system across all transportation networks.
Madame Dang Tuyet Dung, Visa Country Manager, Vietnam and Laos, said: "Visa is committed to working with its clients, merchants, the government and partners like the Ho Chi Minh City Department of Transportation to drive the adoption of digital payments in Vietnam. We are looking forward to bringing our expertise on digital payments and urban mobility to this partnership in the hope that we can accelerate HCMC's smart mobility plans, providing people with secure, faster and more convenient ways to pay for their transport and everyday purchases."
The MOU positions Visa as HCMC DOT's preferred partner in developing digital payment solutions for the city and outlines a series of initiatives they will be focusing on.
These initiatives may include leveraging Visa's feasibility study on the Transit Payment System in HCMC to help educate relevant stakeholders and guide the future direction and policy making of the transit and transit adjacent payments infrastructure and ecosystem. Visa also intends to work with HCMC DOT to explore the opportunity to upgrade the legacy closed-loop payment system by adopting an open-loop EMV contactless technology for all transportation networks.
Finally, Visa intends to share best practices with HCMC DOT through knowledge-sharing workshops and a study tour to meet with transport authorities to share experience on delivering smart mobility solutions.
Visa has a successful history of supporting clients and public transport operators to deliver contactless payments acceptance in the mass transit industry with involvement in more than 100 projects with public transport operators or authorities across the globe.
About Visa
Visa Inc. (NYSE: V) is the world's leader in digital payments. Our mission is to connect the world through the most innovative, reliable and secure payment network—enabling individuals, businesses and economies to thrive. Our advanced global processing network, VisaNet, provides secure and reliable payments around the world, and is capable of handling more than 65,000 transaction messages a second. The company's relentless focus on innovation is a catalyst for the rapid growth of connected commerce on any device, and a driving force behind the dream of a cashless future for everyone, everywhere. As the world moves from analog to digital, Visa is applying our brand, products, people, network and scale to reshape the future of commerce. For more information, visit usa.visa.com/aboutvisa, visacorporate.tumblr.com and @VisaNews.