Visa and Moca team up to accelerate online shopping and digital payments
07/06/2021
At least half of Vietnamese consumers are using a super app on their mobile device – Visa Study
Visa, the world's leader in digital payments, and Moca, a leading digital payments service in Vietnam, have teamed up to encourage consumers to save their Visa payment card-on-file to make fast, convenient and secure online payments via Moca's payment solutions on the Grab app and other eCommerce platforms.
The Southeast Asia Regional Report 20191 estimated Vietnam's online food ordering and delivery market will reach US$302 million by 2020, with users expected to continue rising from 10.5 million to 17 million by 2024.
At the announcement of the partnership, Mrs. Dang Tuyet Dung, Visa Country Manager for Vietnam and Laos, shared: "As the payment landscape evolves rapidly around us, it is important for us all to adapt. Visa's partnership with Moca offers speed, convenience and security to consumers, especially in the context of the COVID-19 pandemic and social distancing. We are hoping our partnership will bring these benefits to even more consumers across Vietnam."
The Visa Consumer Payment Attitudes study2 found at least half of Vietnamese consumers are using a super app on their mobile device. Eighty seven percent of consumers are using home delivery and ninety eight percent of them have increased their usage during the pandemic. Consumers also rank some of their top security concerns as having sufficient security to protect mobile transactions, personal details and financial details.
Card-on-file (COF) – saving card details on a trusted platform to simplify future purchases – offers consumers security and convenience whilst shopping online, with immediate updates on their transactions. This feature will be a significant push towards the adoption of eCommerce by making the purchasing journey even more seamless, onboarding more regular consumers and generating more customers for vendors. The technology offers significant benefits to consumers and small businesses while keeping them safe with Visa's tokenization technology that replaces sensitive payment information with a unique identifier, or "token".
Throwing their considerable weight behind this year's Cashless Day campaign by the State Bank of Vietnam's Payment Division and Tuoi Tre newspaper, Visa and Moca also offer an attractive promotion for first-time Visa cardholders who link their Visa cards on the Grab app. Specifically, users will enjoy a discount of up to VND 40,000 for one GrabFood order with a minimum value of VND 80,000 on weekdays from now to September 1, 20213.
Mr. Nguyen Xuan Viet Binh, CEO of Moca said: "Over the years, Moca has developed new payment products and solutions, ensuring the smooth and seamless connection of services, sales of goods and payment for consumers. As a result, Moca has not only retained existing users but also attracted a significant number of first-time cashless users. The partnership with Visa will help us better meet the growing demand for cashless payments and online food delivery during the COVID-19 pandemic."
Up to now, Moca has partnered with 25 banks and a digital bank in Vietnam, helping users make safe, secure and convenient cashless payments. Moca users can not only pay for mobility, food, package and grocery delivery services on the Grab superapp platform, they can also conduct a range of transactions beyond the Grab app such as paying bills, topping up their mobile, and even paying online on FPTShop, etc.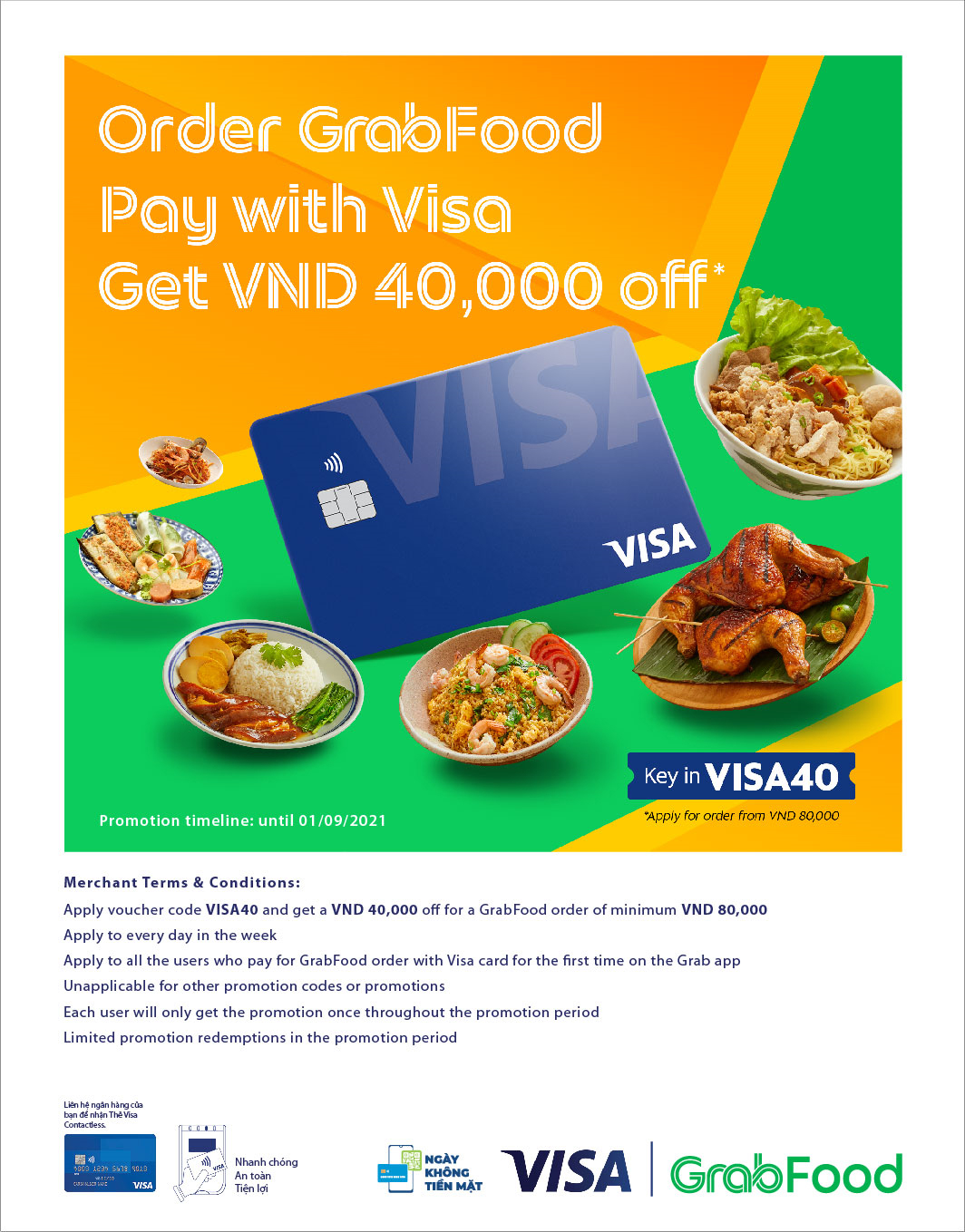 1 https://www.vcci.com.vn/nhu-cau-giao-do-an-bung-no-xuat-hien-ngay-cang-nhieu-can-bep-ma
2 Visa's Consumer Payment Attitudes Study, prepared by CLEAR in Aug-Sep 2020, surveyed 1,000 people across the country who are working part or full time with a demographic mix that sought to create a representative mix of ages, genders and income levels.
3 Terms and conditions apply.
About Visa Inc.
Visa Inc. (NYSE: V) is the world's leader in digital payments. Our mission is to connect the world through the most innovative, reliable and secure payment network - enabling individuals, businesses and economies to thrive. Our advanced global processing network, VisaNet, provides secure and reliable payments around the world, and is capable of handling more than 65,000 transaction messages a second. The company's relentless focus on innovation is a catalyst for the rapid growth of digital commerce on any device for everyone, everywhere. As the world moves from analog to digital, Visa is applying our brand, products, people, network and scale to reshape the future of commerce. For more information, visit About Visa, visa.com/blog and @VisaNews.
About Moca
Moca is a leading digital payment service provider in Vietnam. Having been licensed by the State Bank of Vietnam since early 2016, Moca has now partnered with 25 leading banks. Its patented products pioneered the increasingly popular QR code mobile payment method and have gained acceptance at chains such as McDonald's, 7-Eleven, as well as SME and micro retailers. With its full-featured digital payment platform, Moca aims to bring cashless payments to everyday life in Vietnam. For more information, please visit www.moca.vn.