Visa announces winners of She's Next Grant Program in Vietnam
08/18/2022
Three women entrepreneurs across Vietnam awarded grants and coaching to help fund, run and grow their businesses
Visa, the world's leader in digital payments, has announced the winners of its inaugural She's Next Grant Program in Vietnam. As an extension of Visa's global She's Next Grant Program, created to boost and empower women entrepreneurship, three women business-owners from across Vietnam received a grant of $10,000 USD and one-year business coaching through IFundWomen to support, grow and expand their businesses.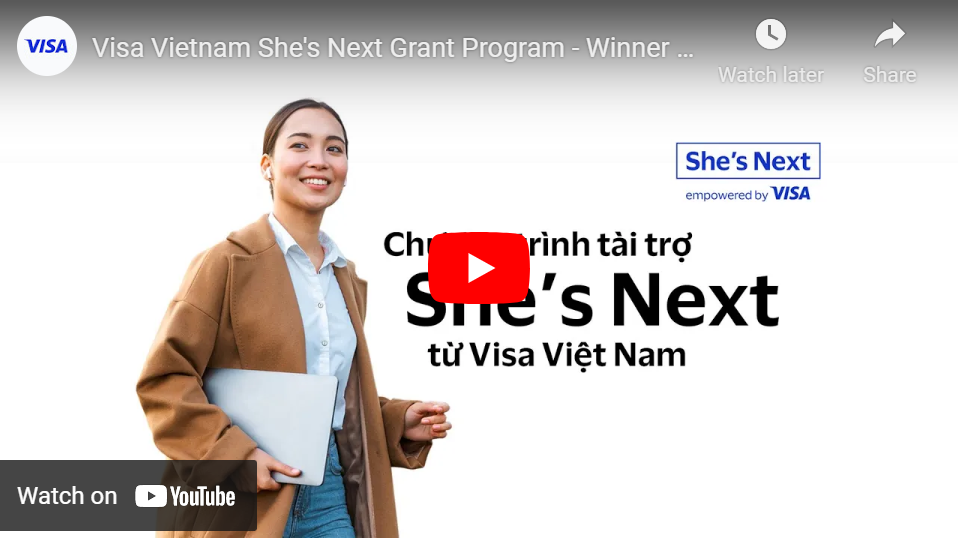 The COVID-19 pandemic has put a major strain on SMEs, which represent 97 percent of the 800,000 businesses operating in Vietnam1. Hampered by limited capital buffers and the reserves to overcome prolonged hardships, SMEs are often more agile and able to reinvent themselves, or were set up with disruption in mind.
Ms. Dung Dang, Country Manager of Visa Vietnam and Laos, said: "The pandemic has been a watershed, as outdated businesses suffered while those who could embrace disruption thrived. It fills me with pride to say we have seen many outstanding women entrepreneurs who demonstrated the necessary flexibility to succeed. We at Visa would like to provide greater visibility for their success, to break down age-old stereotypes and build a digital economy based on equity and inclusion. This is our goal with the She's Next Grant Program, and I hope the continued success of our three women-owned SME winners will support this goal."
The program received a wide variety of entries, from household businesses preserving age-old traditions to fully-fledged digital disruptors, with deep environmental, cultural or social relevance, showcasing the diversity among local women entrepreneurs.
The winners of Visa's She's Next Grant Program in Vietnam are:
EQUO, founded by Marina Tran-Vu, is a sustainable brand providing 100% plastic-free solutions for everyday single-use products, producing drinking straws, utensils and dishware from natural materials that are compostable such as sugarcane, coffee and coconut. The brand is tackling the plastic-pollution problem and being a distinct eCommerce retailer in its categories.


Palmania JSC, co-founded by Diu Chau, established with an aim to revive the traditional craft of palmyra nectar production of the indigenous Khmer people. It is a company steeped in the cultural heritage of An Giang, with the ultimate aim of enriching its minorities.
Tubudd JSC, co-founded by Annie Vu, is a platform connecting travelers with local experts (buddies) to supercharge their holidays and business trips. With 1,000 locals belonging to 12 countries waiting to be their guide, interpreter or personal assistant, travelers can get a truly authentic glimpse of their destination.

The three wining businesses all had compelling stories and aim to resolve relevant real–life problems. They also have strong digital presence and a tried and tested business model – with the potential to scale.
Since 2020, Visa has invested over $2.5 million in over 220 grants and coaching for women SME owners through the She's Next Grant Program globally including in US, Canada, India, Ireland, Egypt, Morocco, UAE, and Saudi Arabia.
In Vietnam, Visa furthers its commitment by way of its extended Vietnam grant program, and with initiatives like the SMB toolkit and Practical Business Skills programs to support small businesses in driving efficiency and sales through the acceptance of digital payments and the expansion of businesses online.
1 Roundtables: Small and Medium Enterprises and the EVFTA, Ministry of Planning and Investment
About Visa
Visa (NYSE: V) is a world leader in digital payments, facilitating transactions between consumers, merchants, financial institutions and government entities across more than 200 countries and territories. Our mission is to connect the world through the most innovative, convenient, reliable and secure payments network, enabling individuals, businesses and economies to thrive. We believe that economies that include everyone everywhere, uplift everyone everywhere and see access as foundational to the future of money movement. Learn more at Visa.com.