Visa contactless payments set record growth as Vietnamese embrace cashless payments
08/03/2020
Contactless transactions up 500% as consumers and merchants look for a fast and safe way to pay
Visa, the world's leader in digital payments, today announced that Visa contactless transactions grew more than 500 percent from the first six months of 2019 to the first 6 months of 20201. The total value of Visa contactless transactions increased more than 600 percent over the same period.
Contactless payments, where consumers simply tap their card or phone against the POS terminal to pay, have grown in popularity as consumers and merchants look for a fast, convenient and safe way to pay. These benefits are more apparent than ever, as the COVID-19 pandemic has created unprecedented challenges and merchants are looking for ways to serve their customers safely.
Madame Dang Tuyet Dung, Visa Country Manager for Vietnam and Laos, said: "At Visa, we're incredibly excited to be working with our partners in Vietnam to help bring this new payment technology to more consumers and businesses across the country. As the Vietnamese economy continues to grow, the demand for faster, smarter methods of payment will increase—and contactless technology is just one of the ways in which we're working to meet this need."
At the end of June 2020, the number of Visa cards that have recorded at least one contactless transaction within the past three months grew by nearly 300 percent compared to June 2019. Findings from the recent Visa Consumer Payment Attitudes study2 showed 37 percent of Vietnamese consumers are now using contactless card payments. Of those that do use contactless card payments, 85 percent shared that they use them often—at least once a week.
With contactless payments, consumers can tap to pay at checkout counters anywhere they see the contactless symbol

without handing their cards to cashier staff. Contactless payments are secured with dynamic EMV® Chip technology. The cards have a tiny antenna which can be read by POS terminals when they are 4cm away or less from the terminal. During the payment process, the card never needs to leave the cardholder's hand, and it's extremely fast—POS terminals can typically read a contactless card or device in less than half a second. Shoppers can even pay with their mobile phones, using PINs, passwords or biometrics for extra security.
This new technology offers benefits for both consumers and merchants. Given that it's a faster way to pay, it means that consumers don't have to wait in line for as long and they can have greater control over their card as it doesn't need to leave their hand. Merchants can benefit by serving more customers, reducing their cash handling costs, and providing a better customer payment experience.
Contactless payments are already deployed at some of Vietnam's biggest retailers and restaurant chains, including Lotte Mart, The Pizza Company, and BHD with promotional campaigns that seek to drive and normalize the use of digital payments.
Visa has provided support to Starbucks in Vietnam to drive contactless activation, with Starbucks implementing swivel stands for terminals to give customers more control over transactions, and offering discounts to customers paying with Visa contactless. Half of all Visa transactions at Starbucks Vietnam are now contactless. Similarly, Visa has also partnered with Saigon Co-op to offer a range of exciting prizes to cardholders using this payment technology at their outlets.
"We're incredibly glad to be working with some of the most well-loved businesses in Vietnam to offer consumers an even easier way to pay. We look forward to continuing this work with other businesses in the future," added Madame Dang Tuyet Dung.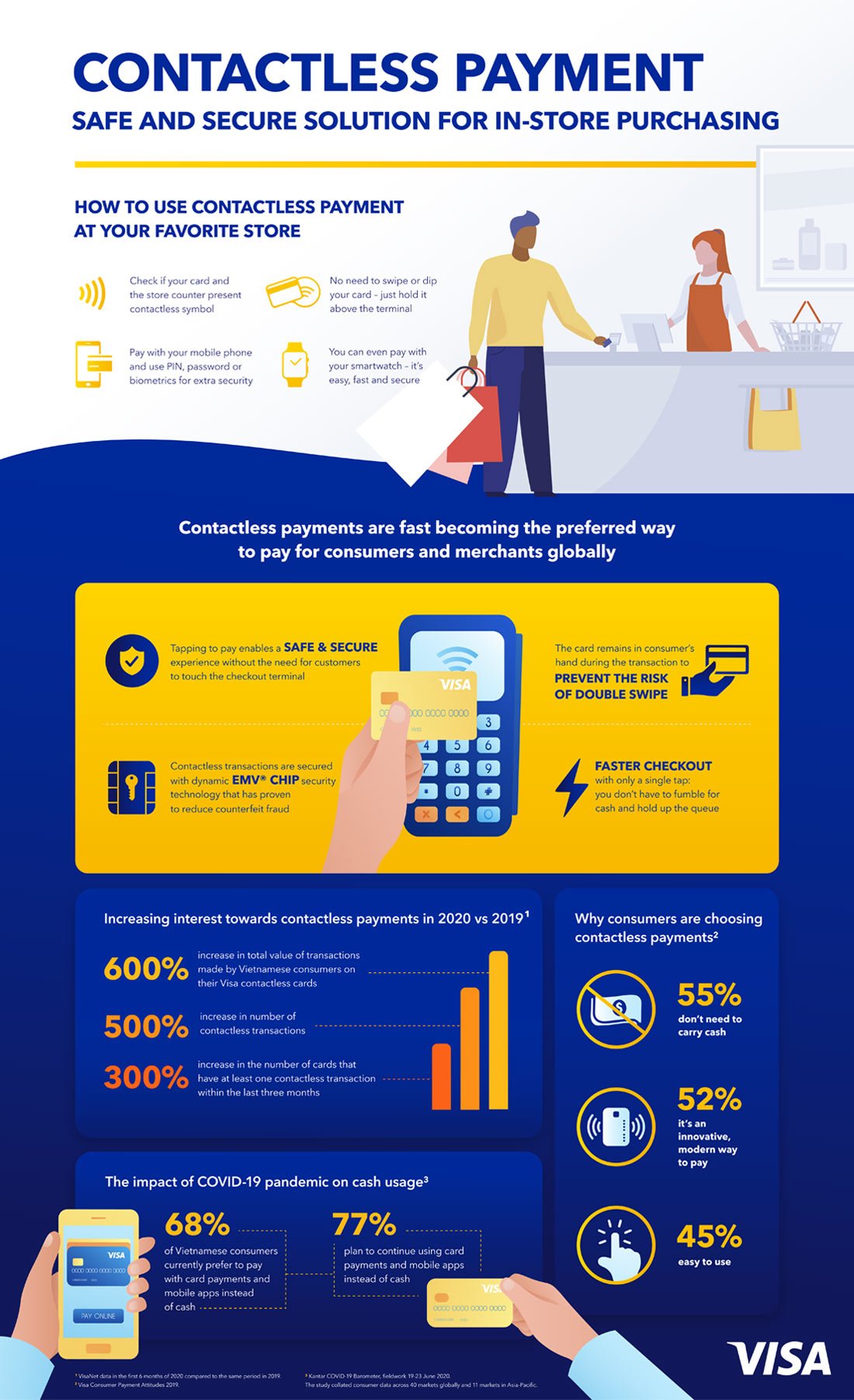 1 VisaNet data Jan-June 2020 vs Jan-June 2019.
2 The study was prepared by ENGINE Insights in 2019, surveyed 1,020 people across the country who are working part or full time with a demographic mix that sought to create a representative mix of ages and genders.
About Visa Inc.
Visa Inc. (NYSE: V) is the world's leader in digital payments. Our mission is to connect the world through the most innovative, reliable and secure payment network - enabling individuals, businesses and economies to thrive. Our advanced global processing network, VisaNet, provides secure and reliable payments around the world, and is capable of handling more than 65,000 transaction messages a second. The company's relentless focus on innovation is a catalyst for the rapid growth of digital commerce on any device for everyone, everywhere. As the world moves from analog to digital, Visa is applying our brand, products, people, network and scale to reshape the future of commerce. For more information, visit About Visa, visa.com/blog and @VisaNews.