Visa extends support of Cashless Day to drive growth of non-cash payments in Vietnam
06/16/2021
Visa, the world's leader in digital payments, is celebrating "Cashless Day" in Vietnam by raising the awareness and benefits cashless payments provide businesses and consumers across the country.
The COVID-19 pandemic has been a major disruptor for businesses and consumers alike, bringing significant changes in the way people buy and sell goods and services. Banks, fintech companies, and merchants are looking at a transformed landscape where success lies in offering consumers convenient, frictionless and safe payment methods, while educating non-users of the potential gains in going digital.
According to the Visa Consumer Payment Attitudes study, Vietnamese expect the country's transition to a cashless society to happen as soon as 2030, with the majority (84% of respondents) already having attempted to go digital and get by without using cash1. The pandemic has resulted in the growth of eCommerce and food delivery services with a study by Kantar2 suggesting most "new normal habits" acquired during the pandemic are here to stay.
Mrs. Dang Tuyet Dung, Visa Country Manager for Vietnam and Laos, said: "Visa is ecstatic to once again support Cashless Day and to promote the adoption of digital payments in Vietnam, bringing our cutting-edge payment technologies and extensive partner network to accelerate the shift towards safer, more convenient payment methods."
Vietnamese consumers are increasingly choosing new ways to pay including digital wallets and QR code payments. Fifty-seven percent of consumers are holding up to 3 apps with mobile wallets on their smartphones, while 55 percent have one preferred app to use for all their transactions3. Additionally, further long-term increases are forecast in the use of contactless cards, mobile phone payments or QR code payments for in-store purchases4.
To help drive the increased use of digital payments, Visa has extended its lineup of merchant partners for Cashless Day bringing significant discounts and benefits for Visa cardholders. Visa and its partner, Moca – a leading digital payments service in Vietnam, are offering users linking their Visa card-on-file on Grab app a one-time discount of VND 40,000 for a minimum of VND 80,000 bill per order on GrabFood on weekdays*.
Visa cardholders making eCommerce purchases on Lazada, Shopee, Tiki, Now or paying with Moca e-wallet on the Grab app will benefit from discounts up to VND 50,000. Discounts and cashback incentives will also be available from Agoda, Booking.com and premier luxury fashion platforms Net-a-Porter and Farfetch. Visa contactless cardholders can also benefit from rewards and discounts at popular chains like Phuc Long tea and coffee chain, CGV cinemas and Mai Linh taxi*.
Visa is also supporting small to medium-sized enterprises (SMEs) through the Visa Commercial Offers program. This program provides discounts and support to SMEs wanting to take their business online, enhance business efficiency and improve their bottom line, including advertising, customer engagement, commercialization and networking tools for purchases made through Visa commercial cards*.
"SMEs form the backbone of the Vietnamese economy and we at Visa are ready to provide them with all the tools and help they need to digitize their operations," said Mrs. Dung. "As part of these ongoing efforts, we are pleased to leverage our global Practical Business Skills platform offering free educational resources for SMEs with online training materials, including videos, business templates and infographics to help small business owners start up, manage their business and lead it to successful growth."
Held annually, Cashless Day is organized jointly by the State Bank of Vietnam and Tuoi Tre (The Youth) Newspaper. For more information please visit https://ngaykhongtienmat.tuoitre.vn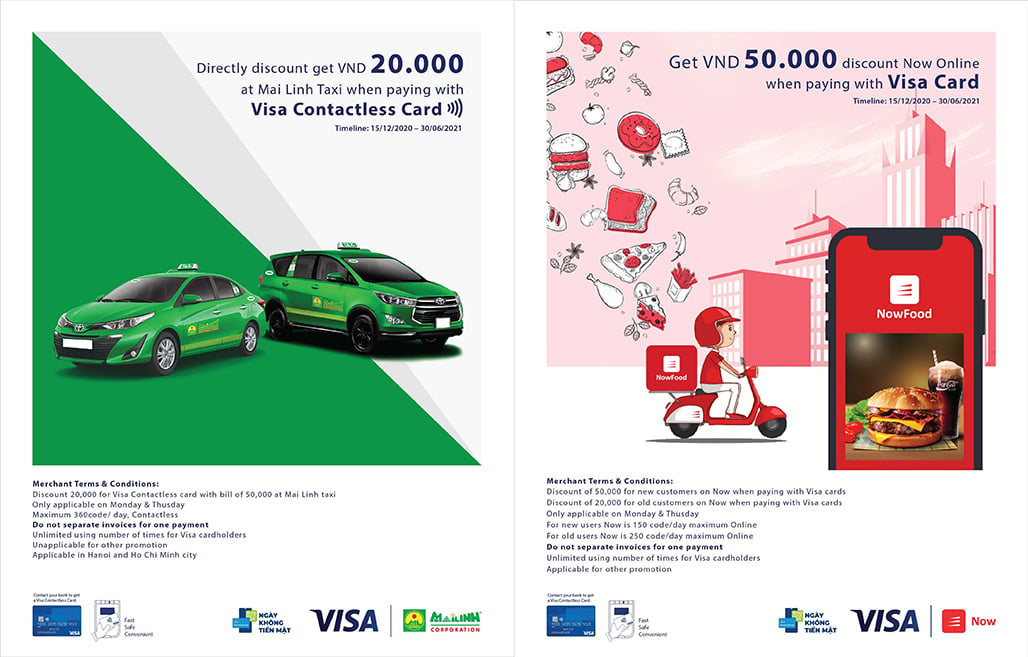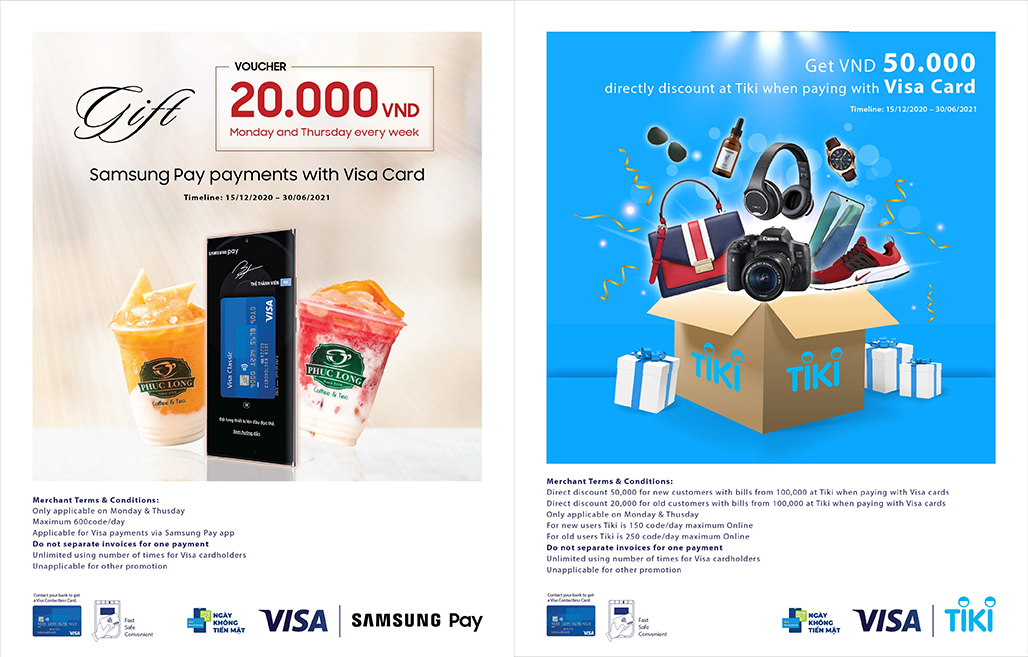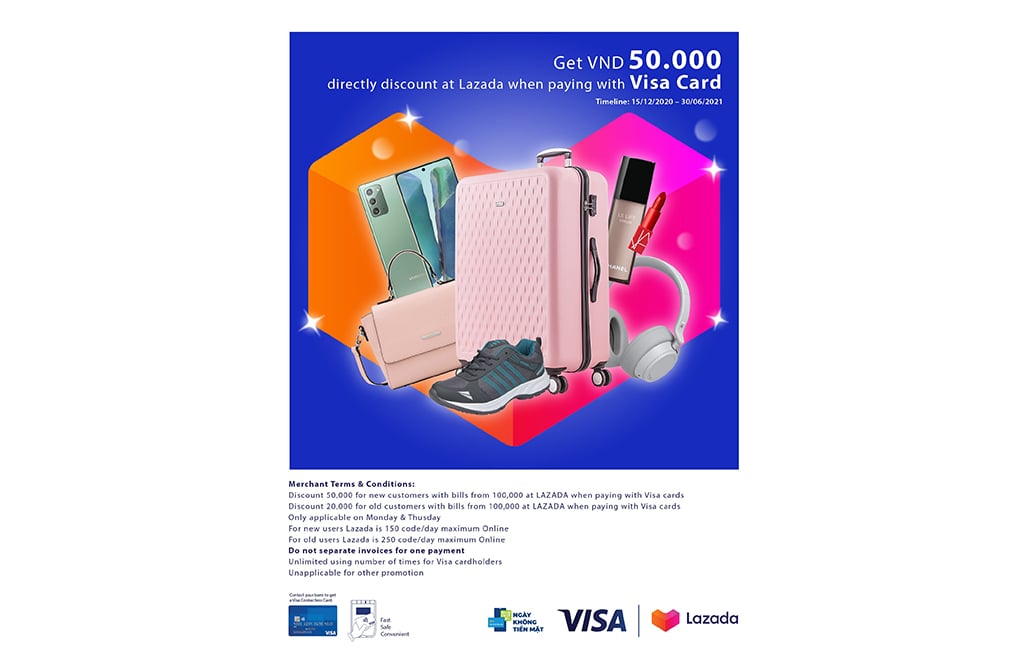 1 Visa's Consumer Payment Attitudes Study, prepared by CLEAR in Aug-Sep 2020, surveyed 1,000 people across the country who are working part or full time with a demographic mix that sought to create a representative mix of ages, genders and income levels.
2 "COVID-19: What do consumers expect from brands?" by Kantar, February 2020 https://consulting.kantar.com/wp-content/uploads/2020/03/COVID-19-Asia-Infographic_FINAL.pdf
3 Visa's Consumer Payment Attitudes Study, prepared by CLEAR in Aug-Sep 2020, surveyed 1,000 people across the country who are working part or full time with a demographic mix that sought to create a representative mix of ages, genders and income levels.
4 Pandemic response and business continuity tips, Visa.
* Terms and conditions apply.
About Visa Inc.
Visa Inc. (NYSE: V) is the world's leader in digital payments. Our mission is to connect the world through the most innovative, reliable and secure payment network - enabling individuals, businesses and economies to thrive. Our advanced global processing network, VisaNet, provides secure and reliable payments around the world, and is capable of handling more than 65,000 transaction messages a second. The company's relentless focus on innovation is a catalyst for the rapid growth of digital commerce on any device for everyone, everywhere. As the world moves from analog to digital, Visa is applying our brand, products, people, network and scale to reshape the future of commerce. For more information, visit About Visa, visa.com/blog and @VisaNews.