Visa Invites Asia Pacific's Top Startups to Unlock Their Global Potential
01/07/2021
Startups across the region can apply from today to seek one of up to six places in the Visa Accelerator Program
Visa, the world's leader in digital payments, is announcing an accelerator program for startups across Asia Pacific that are looking to expand their businesses into new markets. Visa will select an elite group of up to six startups to be part of the first program cohort. The Visa Accelerator Program will focus on creating defined commercial opportunities for the startups to collaborate with Visa and its extensive network of bank and merchant partners in the region.
The Visa Accelerator Program is designed for startups that have launched successful solutions in their home markets, but are looking towards the next stage of growth. As the engine of global commerce, Visa is uniquely positioned to help startups break into new geographies and reach new customer groups.
"In Visa's ongoing work with the startup community, we often see companies face challenges when taking their business from a local success story to becoming a player in multiple markets," said Chris Clark, regional president, Asia Pacific, Visa. "Visa has global expertise that can help startups take their expansion plans off the white board and into the real world."
Digital economy, small businesses, open data all key focus areas
Startups in the Visa Accelerator Program should be ready to work on some of the most pressing financial and technological opportunities in Asia Pacific. Visa is looking for startups that want to address areas such as:
Expanding access to the digital economy to consumers and businesses that may be underserved or cash-dependent
Supporting small businesses as they grapple with changing technology demands and the ongoing impacts of the COVID-19 pandemic
Leveraging the growing open data environment in the region to develop more personalised banking and shopping experiences
Developing new ways of moving money that aren't dependent on traditional credit and debit cards
The Visa Accelerator Program could have a transformative impact for startups in places like Vietnam, where growth and the appetite for digital payments is booming. The amount of capital injected into startups in Vietnam increased three-fold between 2016 and 2018, hitting nearly 900 million USD1, and the country is also a regional leader when it comes to new payment technologies, accounting for 36 percent of total investment in this field for Southeast Asia in 20192.
Vietnam is well on its way to becoming cashless, with a good spread of users adopting different kinds of cashless payments. According to Visa's Consumer Payment Attitudes study 20203, 47 percent of consumers in Vietnam have increased their use of contactless, 45 percent for card online, and 51 percent for online wallet use. The guidance and expertise provided by the Accelerator Program could prove invaluable to fledgling startups looking to make a headway in digital economy.
"There is no shortage of fantastic solutions coming out of the Asia Pacific startup community. What's most important to Visa is how we can support those solutions getting elevated to a stage where in a few months' time they could be pitched as a commercial deal to a leading bank, retailer or technology company in the region. A big differentiator for the Visa Accelerator Program is our concentration on a small number of startups that are truly ready to unlock that next level," said Clark.
Ms. Dang Tuyet Dung, Visa Country Manager for Vietnam and Laos, said: "The Visa Accelerator Program is a great opportunity to fast-track deserving businesses into the digital economy. The Accelerator Program can give startups access to the required technical expertise needed to thrive and ensures that businesses in Vietnam are equipped with the latest advances in digital payments. Through the chance to tap into Visa's network of clients and partners and dedicated support from Visa's solution architects, the Accelerator Program can help Vietnam's startups become regional success stories."
Join the program
The Visa Accelerator Program is a new part of Visa's broader set of platforms and activities for the startup community in Asia Pacific. With its dedication to supporting international expansion, the Visa Accelerator Program is the right fit for startups that are Series A and above, have a long-term commitment to Asia Pacific growth and existing operations in the region, and have a market-validated, proven solution.
For more information, including how to apply, visit: https://www.visa.com.sg/apaccelerator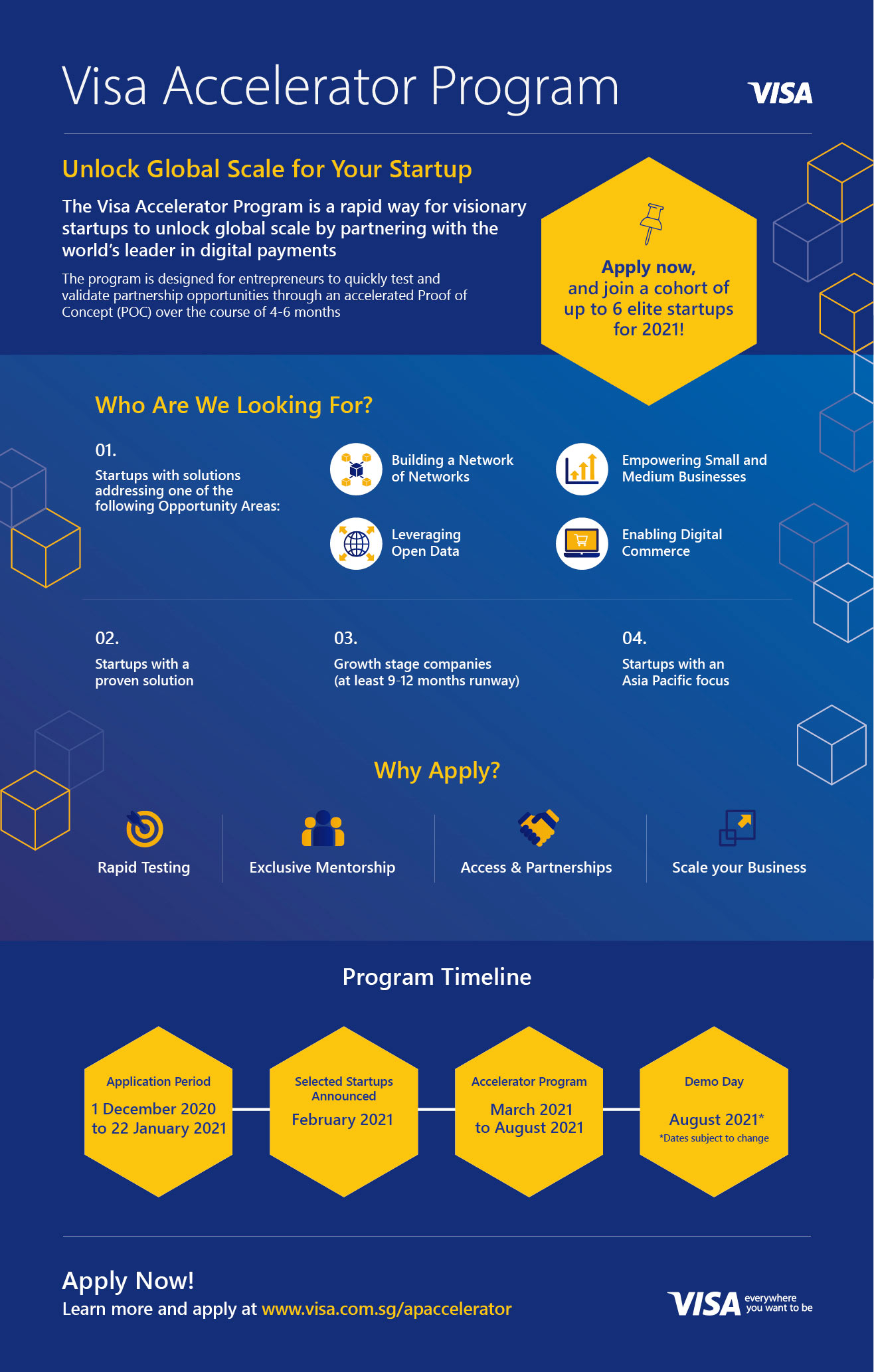 >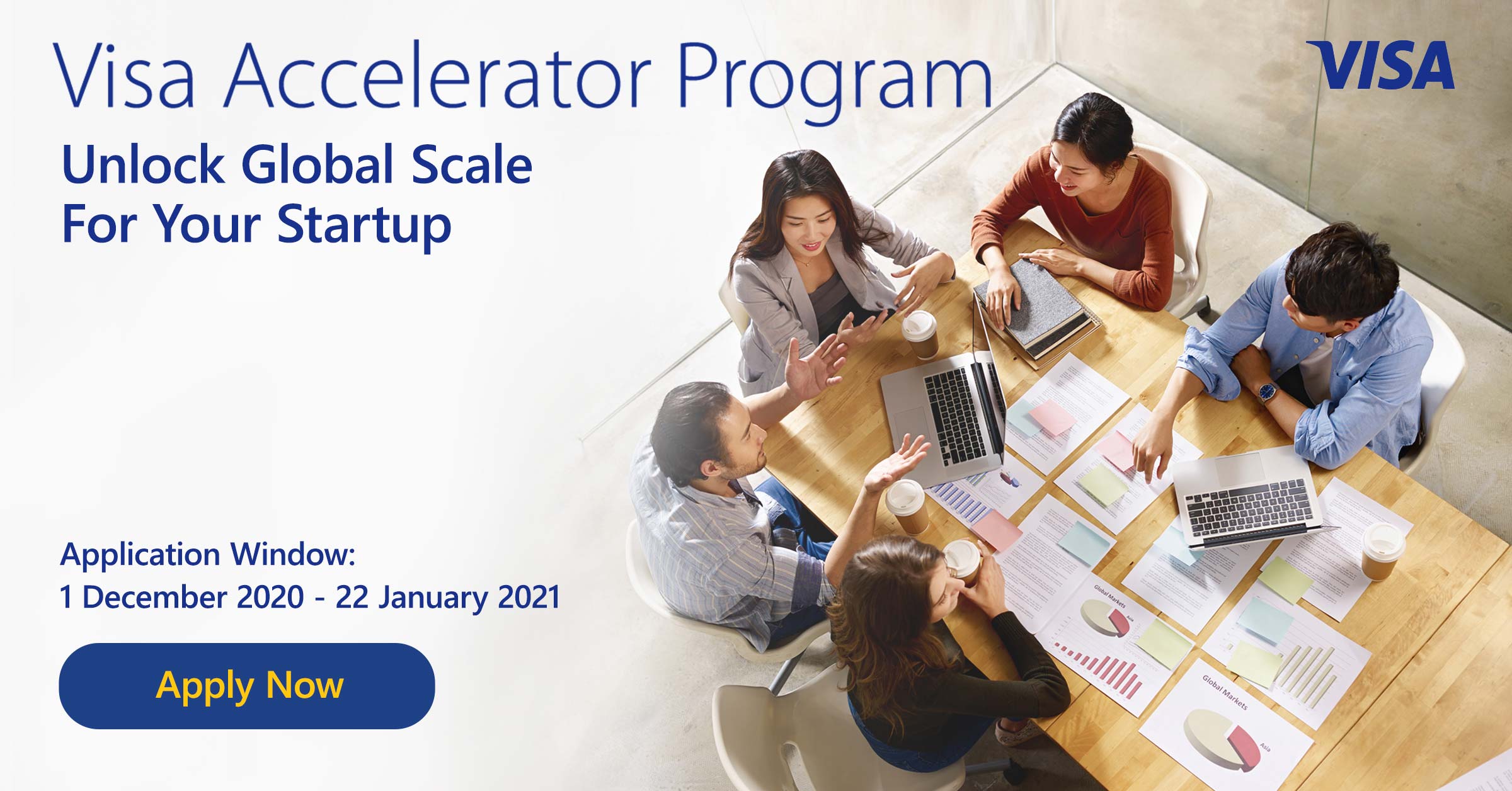 >
1 https://thoibaonganhang.vn/startup-viet-gian-nan-goi-von-ngoai-92972.html
2 https://en.vietnamplus.vn/vietnam-ranks-second-in-fintech-investment-in-southeast-asia/165482.vnp
3 Visa's Consumer Payment Attitudes Study, prepared by CLEAR in Aug-Sep 2020, surveyed 1,000 people across the country who are working part or full time with a demographic mix that sought to create a representative mix of ages, genders and income levels.
About Visa Inc.
Visa Inc. (NYSE: V) is the world's leader in digital payments. Our mission is to connect the world through the most innovative, reliable and secure payment network - enabling individuals, businesses and economies to thrive. Our advanced global processing network, VisaNet, provides secure and reliable payments around the world, and is capable of handling more than 65,000 transaction messages a second. The company's relentless focus on innovation is a catalyst for the rapid growth of digital commerce on any device for everyone, everywhere. As the world moves from analog to digital, Visa is applying our brand, products, people, network and scale to reshape the future of commerce. For more information, visit  About Visa, visa.com/blog and @VisaNews.