Visa joins Vietnam's 5th Cashless Day celebration to promote digital transformation
06/16/2023
Visa supports annual Cashless Day organized jointly by the State Bank of Vietnam and Tuoi Tre newspaper in the push toward a cashless society
Visa, a world leader in digital payments, announced today its support for Vietnam's annual Cashless Day with a slew of exciting promotions. The initiative strengthens Visa's commitment to promoting digital payment adoption and encouraging the digital transformation of Vietnam towards a cashless society.
"Visa is excited to be a part of Cashless Day again and to join our partners in promoting the digital transformation of Vietnam," said Ms. Dung Dang, Visa Country Manager for Vietnam and Laos. "Cashless Day is a recognition of a shift in Vietnam toward a faster, more streamlined shopping experience that provides consumers more of what they want. We share the Government's vision of a cashless society, and strive to provide Vietnam's consumers, businesses and public sector with the most convenient, secure and efficient digital payment solutions."
Visa has been deeply involved with Cashless Day since its inception and joins in spreading awareness of digital payments and the benefits of a cashless society. At the Cashless Day Conference today, Mr. Kelvin Utomo, Head of Product and Solutions, Visa Vietnam and Laos, said: "Digital payment, and specifically contactless payment, is a trend that has already become entrenched in much of Asia and is growing rapidly in Vietnam. We have seen a surge of card acceptance points, including terminals, points-of-sale, contactless and QR codes, while payment volume has grown by more than half over the last year1. Visa's exhaustive suite of payment options allows payment providers to meet buyers and sellers wherever they choose to interact."
To celebrate Cashless Day and bolster digital payment in Vietnam, Visa is offering discounts and special offers to consumers who use their Visa cards at retailers and other participating merchants. For instance, Starbucks customers will get VND10,000 off any medium or large drink when they make their purchase with their contactless Visa cards. Visa will also offer fun activities at its Cashless Town event June 16 to 18, including Snowee gelato ice cream for VND16,600 when using tap-to-pay and a further 50% discount when using it through Google Pay, a photobooth for offline and online photos, and a chance to win a FIFA Women's World Cup Adidas ball signed by Huynh Nhu, captain of Vietnam's women's football team.
Digital payment comes of age in Vietnam
During the COVID-19 pandemic, the use of cashless payment methods soared, with many Vietnamese trying them for the first time, including using credit/debit cards for home deliveries and transferring money via internet banking apps. As Vietnam has emerged out of the pandemic, cash usage remains common for transactions, but consumers are increasingly embracing cashless payment options.
According to the Visa Consumer Payment Attitudes Study 20222, cash usage in Vietnam has fallen since 2020, while 89% of respondents said they use mobile wallets, and 85% use credit and debit cards, primarily for online and contactless payments. In fact, the number of contactless transactions on Visa cards more than doubled in 2022 from the previous year, according to VisaNet statistics3. The use of mobile wallets for payments, especially online and QR, also surged in Vietnam in 2022.
The study also revealed that approximately two-thirds of Vietnamese respondents said they expect Vietnam to be a cashless society by 2030. Reflecting this shift towards an expectation of the more convenient and secure shopping experience that digital payments provide, UP by UrBox – a form of the UrBox loyalty program made possible through a card-linked feature of the Visa Offers Platform – has been a bridge between brands, banks and other financial institutions with millions of users. Spending becomes more fun when users can accumulate points on up to 20% of order value when paying via their Visa cards and redeem those points for countless offers and favorite services of over 350 brands.
To reflect its commitment to promoting digital payment solutions in Vietnam, Visa has become the official payment partner of the MICHELIN Guide Hanoi and Ho Chi Minh City for the next two years. Michelin announced last year that Hanoi and Ho Chi Minh City would join the list of destinations covered by the MICHELIN Guide's inspectors, and the first restaurants in those cities to receive the prestigious Michelin star were announced last week.
Bringing SMEs into the digital economy
Visa has spearheaded a range of impactful initiatives aimed at supporting small businesses to access digital payments and increase participation in the digital economy. Notably, Visa has already surpassed the halfway mark of its objective to digitize 50 million small and medium-sized businesses (SMEs) across the globe.
In Vietnam, Visa recently partnered with SmartPay, a leading Vietnamese fintech company, to empower Vietnam's SMEs with essential tools, such as point-of-sales (POS) terminals. Visa has also partnered with Bizzi, a leading fintech firm in Vietnam supporting SME automation, and Korea's Shinhan Bank to launch an end-to-end SME solution package that includes Visa Business Cards as a convenient payment solution. The Bizzi Spend Management platform is designed to empower businesses to streamline their expense management processes and SME finances that are enabled by Shinhan.
Visa is also offering discounts and special offers at dozens of companies for Visa Commercial card users, including at Qatar Airways, Avis, Adobe, Microsoft, AWS and Google. As part of the Cashless Day festivities, when using their Visa Platinum, Signature, Infinite or Business/Corporate cards to buy Vietnam Airlines flights, customers can enjoy bonus rewards miles, or a 20% discount when purchasing an Accor Plus Explorer membership card.
SMEs are increasingly seeking B2B digital solutions to unlock their potential, and Visa has an expansive range of B2B tools that can ensure that SMEs in Vietnam are able to tap new markets for distribution and supply, and reliably conduct online transactions. Specifically, with Visa Business Payment Solution Providers (BPSP), businesses can enable B2B payments and have greater control over the payment process with minimum effort. By connecting with Visa's BPSPs, paying invoices, payroll and rent to non-Visa accepting suppliers with Visa Commercial cards will maximize their cash flows by leveraging early settlement discount.
Secure payments prioritized
As digital payment usage by Vietnamese consumers and companies increases, so too must their vigilance to protect themselves from fraud and other cybercrime. Digital crime has evolved from fraudulent card purchases to now include merchant crime, identity theft, deep fakes and skimming/malware. Cybercrime is expected to cost companies US$10.5 trillion by 2025 while more than 33 billion records are expected to be stolen by cybercriminals in 2023, an increase of 175% from 20184.
In this context of a growing threat of cybercrime, companies and organizations must implement a best-practices fraud management strategy that includes identifying risks and assessing the likelihood they will occur, choosing an effective risk mitigation strategy and continuing to review the efficiency of that strategy as threats evolve.
Visa is constantly striving to create and deliver secure digital payment solutions that customers and businesses can rely on. Over the last five years, Visa has invested US$10 billion globally to boost cybersecurity and combat fraud5. To help to fight cybercrime, protect the payments ecosystem, and keep consumers and businesses safe, Visa recently updated its Security Roadmap for Vietnam. These new security measures are designed to provide enhanced protection for transactions made online and at physical retailers.
Reflecting Visa's commitment to digital security for Vietnamese consumers and businesses, Visa has recently participated in the Vietnam Security Summit 2023 hosted by the Ministry of Information and Communications of Vietnam, featuring a presentation by Mr. Louis Smith, Head of Risk for Visa in Southeast Asia.
"Every year, Cashless Day takes on more significance as digital payment usage becomes increasingly widespread in Vietnam," Ms. Dung said. "Visa is committed to continue to invest in enhancing financial education and system security to further the country's digital transformation. We look forward to many more Cashless Day campaigns in the years to come as Vietnam embraces the convenience and security of digital payments."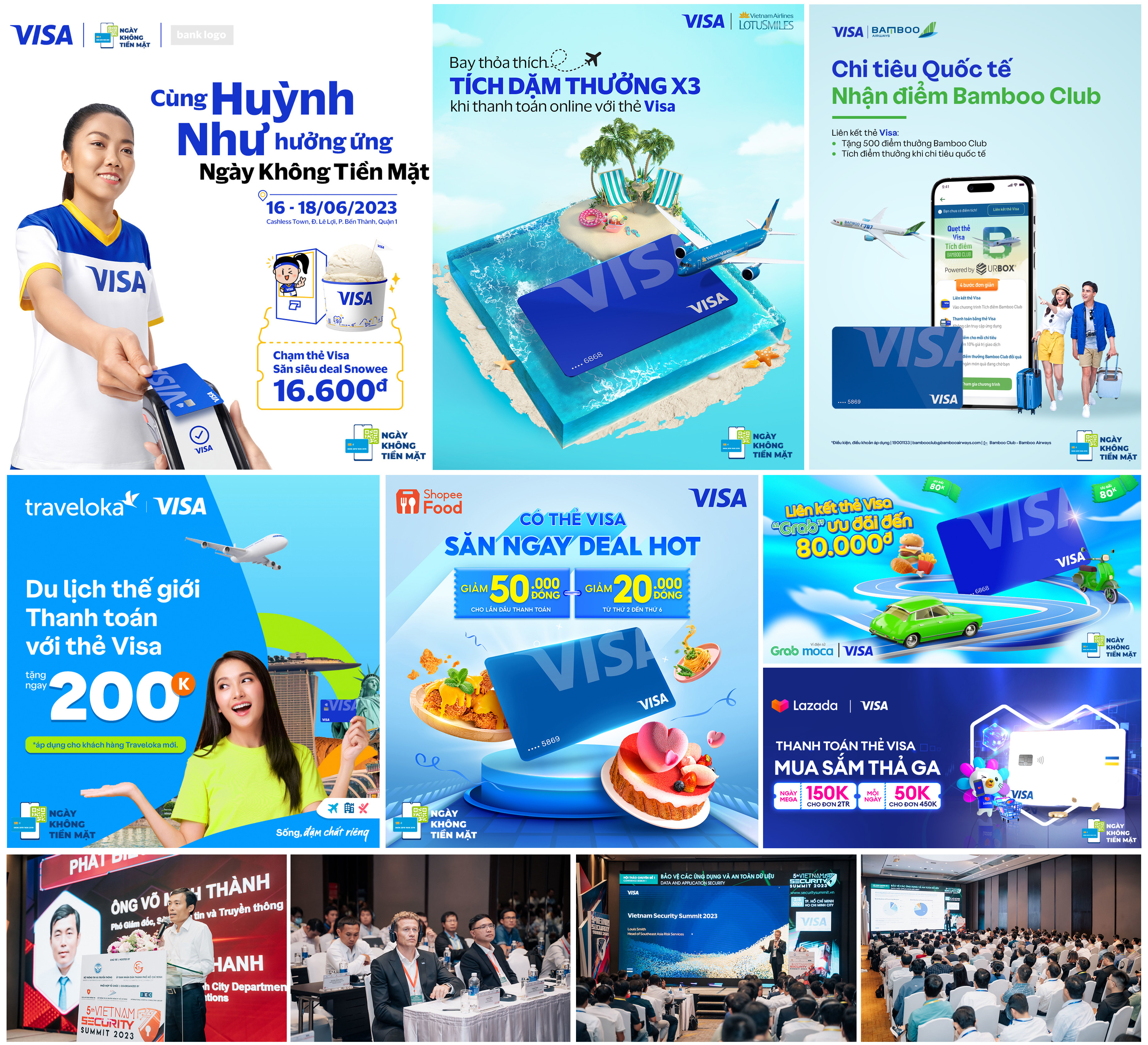 1 Vietnam Bank Card Association data and VisaNet data as of Dec 2022.
2 The Visa Consumer Payment Attitudes Study was prepared by CLEAR in Sep-Oct 2022, surveyed amongst 6,550 consumers in Singapore, Philippines, Malaysia, Indonesia, Thailand, Vietnam, and Cambodia. The study conducted online interviews with 1,000 Vietnamese consumers across the country who are working part or full time with a demographic mix that sought to create a representative mix of ages and genders.
3 VisaNet data, year-on-year growth 2022 vs 2021.
4 The Top Data Breaches of 2022 so far, Security Boulevard, November 2022.
5 Global Visa risk blog on security, https://usa.visa.com/visa-everywhere/blog/bdp/2022/04/18/post-pandemic-economies-demand-1650310496845.html.
About Visa
Visa (NYSE: V) is a world leader in digital payments, facilitating transactions between consumers, merchants, financial institutions and government entities across more than 200 countries and territories. Our mission is to connect the world through the most innovative, convenient, reliable and secure payments network, enabling individuals, businesses and economies to thrive. We believe that economies that include everyone everywhere, uplift everyone everywhere and see access as foundational to the future of money movement. Learn more at Visa.com.