Visa partners with Sacombank to launch Business Reporting – a powerful SME spend management tool
06/10/2021
Visa Business Reporting can help SMEs to stay on top of their business expenses and reduce administrative time
Visa, the global leader in digital payments, has teamed up with Sacombank to provide small and medium-sized enterprises (SMEs) in Vietnam with access to an enhanced spend management tool designed to help SMEs manage their business expenses more effectively. Visa Business Reporting enables SMEs to track where and how their money is spent, and if they are going beyond budget, making it easier to manage cash flow and compile accurate business expense reports.
Business cards help SMEs to save time in accounting processes and empower them to control their company expenditure. Visa is collaborating with clients and partners to extend the merchant network for business debit card, assisting Vietnamese SMEs to start and grow their businesses. Meanwhile, SMEs can "buy now and pay later" using business credit cards. By utilizing Visa Business Reporting for business cards, SMEs can safeguard against misuse or poor management of employee expenses to achieve further growth.
"As the digital economy continues to grow rapidly, it is a key priority for businesses to have the ability to make faster and more efficient transactions, which can be achieved through digital payment methods. With Visa Business Reporting, we are providing a powerful expense management and reporting solution that's been designed specifically for small businesses to enable them to operate more effectively," said Mrs. Dang Tuyet Dung, Visa Country Manager for Vietnam and Laos.
Mr. Nguyen Tan Cuong, Deputy Chief Corporate Banking Officer at Sacombank, agreed, saying: "Sacombank is excited about our partnership with Visa because it gives us the opportunity to offer this groundbreaking business management tool to customers and help them manage their finances more efficiently. We believe that by monitoring their cash flow, companies will be able to overcome their financial challenges during this uncertain time. With Visa Business Reporting, SMEs are equipped with the data-driven insights that enable them to better understand and improve their operations."
As businesses in Vietnam continue to grow at unprecedented rates, recognition of the need to streamline operations to save costs and facilitate expansion is vital. Digitalization can quickly itemize and categorize expenses to help SME owners easily identify inefficient/costly parts of their operations. Visa Business Reporting can improve cash flow management, while providing financial incentives, thus enable business payment cards to act as a highly efficient tool in terms of planning.
Visa Business Reporting can be accessed via desktop or mobile with near real-time updates of all business-card transactions. Cash transactions can also be added. Expense categories and dashboard can be tailored by each business to provide information that matters to them through daily, weekly or monthly reports that analyze spending patterns from various perspectives following pre-defined expense categories.
"Visa's goal is to empower SME-owners and entrepreneurs with knowledge, skills and access to networks and financial services that improve their economic livelihoods. We are committed to support the local economy and help SMEs to benefit from a variety of initiatives, including our Practical Business Skills program which provides free online education to help them get their online business up and running, and Visa Commercial Offers program to enhance the efficiency of business processes for SMEs' sustainable growth," added Mrs. Dang Tuyet Dung.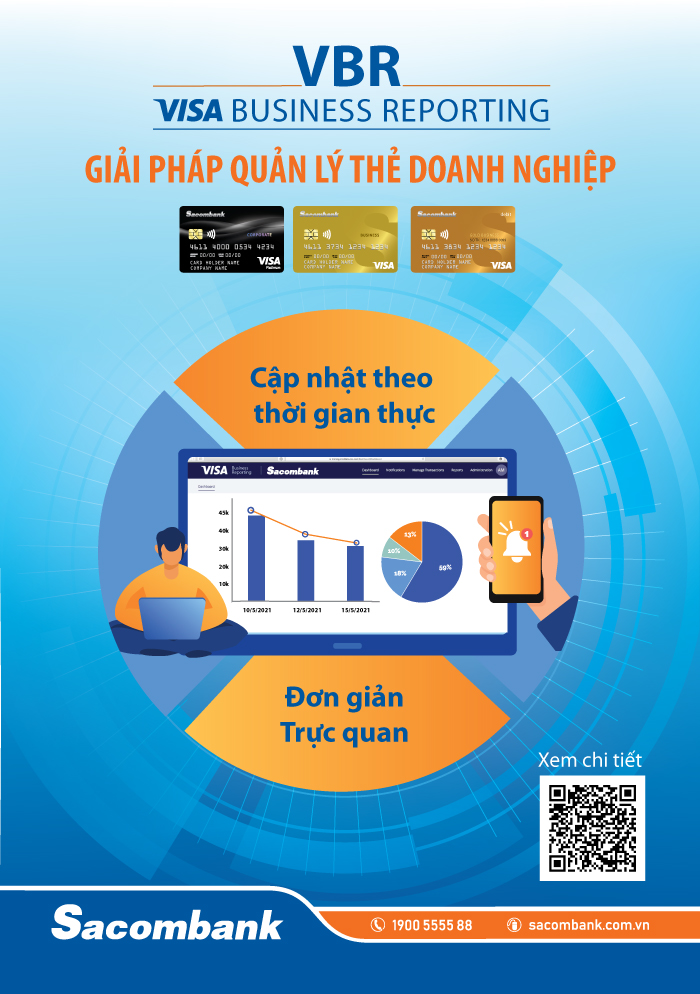 About Visa Inc.
Visa Inc. (NYSE: V) is the world's leader in digital payments. Our mission is to connect the world through the most innovative, reliable and secure payment network - enabling individuals, businesses and economies to thrive. Our advanced global processing network, VisaNet, provides secure and reliable payments around the world, and is capable of handling more than 65,000 transaction messages a second. The company's relentless focus on innovation is a catalyst for the rapid growth of digital commerce on any device for everyone, everywhere. As the world moves from analog to digital, Visa is applying our brand, products, people, network and scale to reshape the future of commerce. For more information, visit About Visa, visa.com/blog and @VisaNews.
About Sacombank
Established on 21 December 1991, Sacombank's chartered capital now is over VND 18,852 billion. Sacombank has advantages of operation network with nearly 570 transaction points in 52/63 provinces in Vietnam, Laos and Cambodia. The bank is deploying more than 250 credit card products, deposits, loans, services, foreign exchange... for all individual customers and businesses. Especially, the system of issuing and managing international standard cards and e-banking system with many advanced optimization utilities are being considered as one of the most advanced in Vietnam. In addition, Sacombank is also continuously implementing preferential loan packages, connecting banks and enterprises in order to contribute to stabilizing the market, meeting the demand for capital for business development, import-export and consumption needs. Sacombank is particularly committed to cooperating with partners in various fields such as insurance, real estate, telecommunications, education, health, food, transport, agriculture... to develop specialized product lines in order to exploit the potential of retail market in Vietnam. Futher information at www.sacombank.com.vn.