Visa study finds cash usage dropping in Vietnam as consumers embrace new ways to pay
05/22/2020
A new study commissioned by Visa, the world's leader in digital payments, has found Vietnamese consumers are using less cash in favour of digital payment methods including new payment technologies such as contactless cards and mobile payments, as well as mobile eCommerce payments.1
The Visa Consumer Payment Attitudes study found 74 percent of consumers in Vietnam expect to increase cashless payments in the next 12 months. Of those that are carrying less cash, the main reason for doing so is that more places are offering cashless payment options.
These trends are reinforced by figures from VisaNet2, the company's payment processing network, which show the value of purchases made by Vietnamese consumers on their Visa credit and debit cards increased 39 percent year-on-year, while the number of transactions grew by 54 percent over the same period.
Madame Dang Tuyet Dung, Visa Country Manager for Vietnam and Laos, said: "Visa's mission in Vietnam has been to offer consumers the most efficient, convenient, and secure forms of payment possible—a goal which relies heavily on the adoption of new technologies. As such, it's incredibly gratifying to see the results of this study, which demonstrate clearly that Vietnamese consumers broadly are recognizing the benefits that payment technologies can bring to their lives, and adopting them at increasingly high rates."
One of the key new technologies that the study looked at was contactless payments—payments where a user simply taps their card, phone, or wearable device against a POS terminal. At present, 37 percent consumers are using contactless card payments in Vietnam, while interestingly, an even higher number (42 percent) are currently using mobile contactless payments. Of those that do use contactless card payments, 85 percent are doing so at least once a week. The study found there is clear room for growth with these new technologies, with four out of five consumers who haven't used contactless payments indicating that they are interested in using them.
Eighty-four percent of consumers stated they feel their personal information is safe while making mobile payments, and this high degree of confidence is reflected in the usage figures: mobile contactless payments, QR payments, mobile e-commerce payments all increased year-on-year over 2018. In particular, 82 percent said they are using mobile contactless payments at least once a week.
The study also found other new technologies that are garnering interest among consumers with 82 percent saying they were interested in making biometrically authenticated payments, such as by using their fingerprint or voice recognition to complete a transaction, while 81 percent were interested in digital banking.
"Looking ahead, we will continue to bring cutting-edge payment technologies to the Vietnamese market, while working closely with our stakeholders to ensure that we clearly communicate the benefits of these technologies to end users. It's an exciting time for commerce in this market, and we look forward to playing a role in assisting the ongoing modernization of the Vietnamese economy," added Madame Dang Tuyet Dung.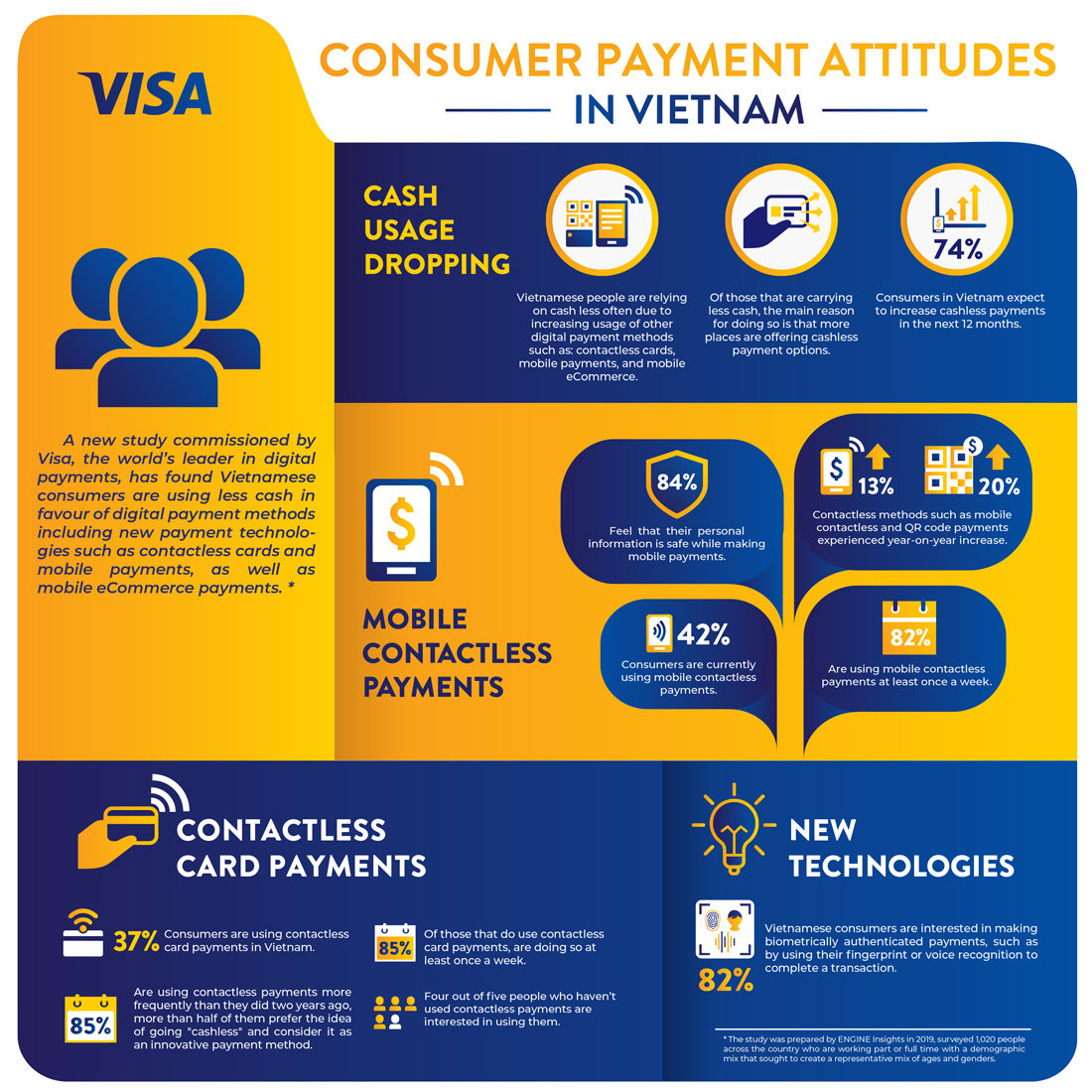 1 The study was prepared by ENGINE Insights in 2019, surveyed 1,020 people across the country who are working part or full time with a demographic mix that sought to create a representative mix of ages and genders.
2 VisaNet data Jan-Dec 2018 vs Jan-Dec 2019.
About Visa Inc.
Visa Inc. (NYSE: V) is the world's leader in digital payments. Our mission is to connect the world through the most innovative, reliable and secure payment network - enabling individuals, businesses and economies to thrive. Our advanced global processing network, VisaNet, provides secure and reliable payments around the world, and is capable of handling more than 65,000 transaction messages a second. The company's relentless focus on innovation is a catalyst for the rapid growth of digital commerce on any device for everyone, everywhere. As the world moves from analog to digital, Visa is applying our brand, products, people, network and scale to reshape the future of commerce. For more information, visit About Visa, visa.com/blog and @VisaNews.