Visa study finds Vietnamese consumers keen to adopt digital payments to adapt during COVID-19
04/28/2021
The Visa Consumer Payment Attitudes study1 found the use of digital wallets, contactless payments via cards and smartphones, and QR code payments have all risen sharply during the pandemic.
Visa, the world's leader in digital payments, has released its Consumer Payment Attitudes study, the latest report on consumer payment trends in Vietnam that sheds light on how behavior has changed during the COVID-19 pandemic towards a cashless economy.
According to Visa's data spending by Vietnamese consumers on their Visa credit and debit cards increased 34 percent in the first quarter of 2021 compared to the year prior2. Contactless payments penetration was up by 230 percent over the same period. The year-on-year growth of the value of eCommerce transactions grew 5.5 times from the last quarter of 2020 to the first quarter of 20213.
Cashless payments growth is being led by digital wallet usage, contactless payments and QR code payments by Vietnamese consumers. Contactless cards are leading the way in the food and dining category, with 67 percent of consumers having increasingly used this method in 2020. Payments via QR codes have also soared during the pandemic, expanding the increasing impact on day-to-day categories such as bill payments (71 percent), retail shopping (58 percent), and supermarkets (57 percent).
Vietnamese consumers have quickly adopted new ways of paying that do not involve physical contact such as tapping to pay. As confirmation of this, mobile contactless payments have gained in popularity, with the main spikes being seen in transactions for health and fitness sector (55 percent), according to the report. In total, 88 percent of consumers are aware of mobile contactless payments and 45 percent are currently adopting this method.
Mrs. Dang Tuyet Dung, Visa Country Manager for Vietnam and Laos, shared: "Since the outbreak of COVID-19, we have observed that the shop-and-pay habits of Vietnamese consumers have changed considerably as people desire safer, more convenient shopping experiences. That is why we are seeing more first-timers adopting contactless payments and more companies shifting to digital, and this trend is likely to continue. This willingness to switch is testament to how much our efforts to invest in new technologies have been appreciated by consumers, and their confidence in the convenience and security cashless payments have to offer."
Driving this transition from cash to alternative payments are security and convenience, with 58 percent of respondents saying the safety of digital versus cash is the main rationale behind their decisions to switch, and more than half (56 percent) citing less hassle.
Before the pandemic, Vietnamese were spending 3.1 hours per day online, but during social distancing that number skyrocketed to 4.2 hours a day at its peak4. This reinforces statistics from Visa's study that find 85 percent of consumers are using eCommerce applications on their smartphones to pay for goods and services at least once a week, and 44 percent have started shopping through social media channels for the first time since the start of the pandemic.
"Visa will continue to communicate the benefits of a cashless society to Vietnamese consumers. Our plan is to deploy new payment technologies by enabling payments to be made for everyone. The Vietnamese public are quick to pick up on the latest innovations, making this an exciting market for the digital economy to thrive," added Mrs. Dang Tuyet Dung.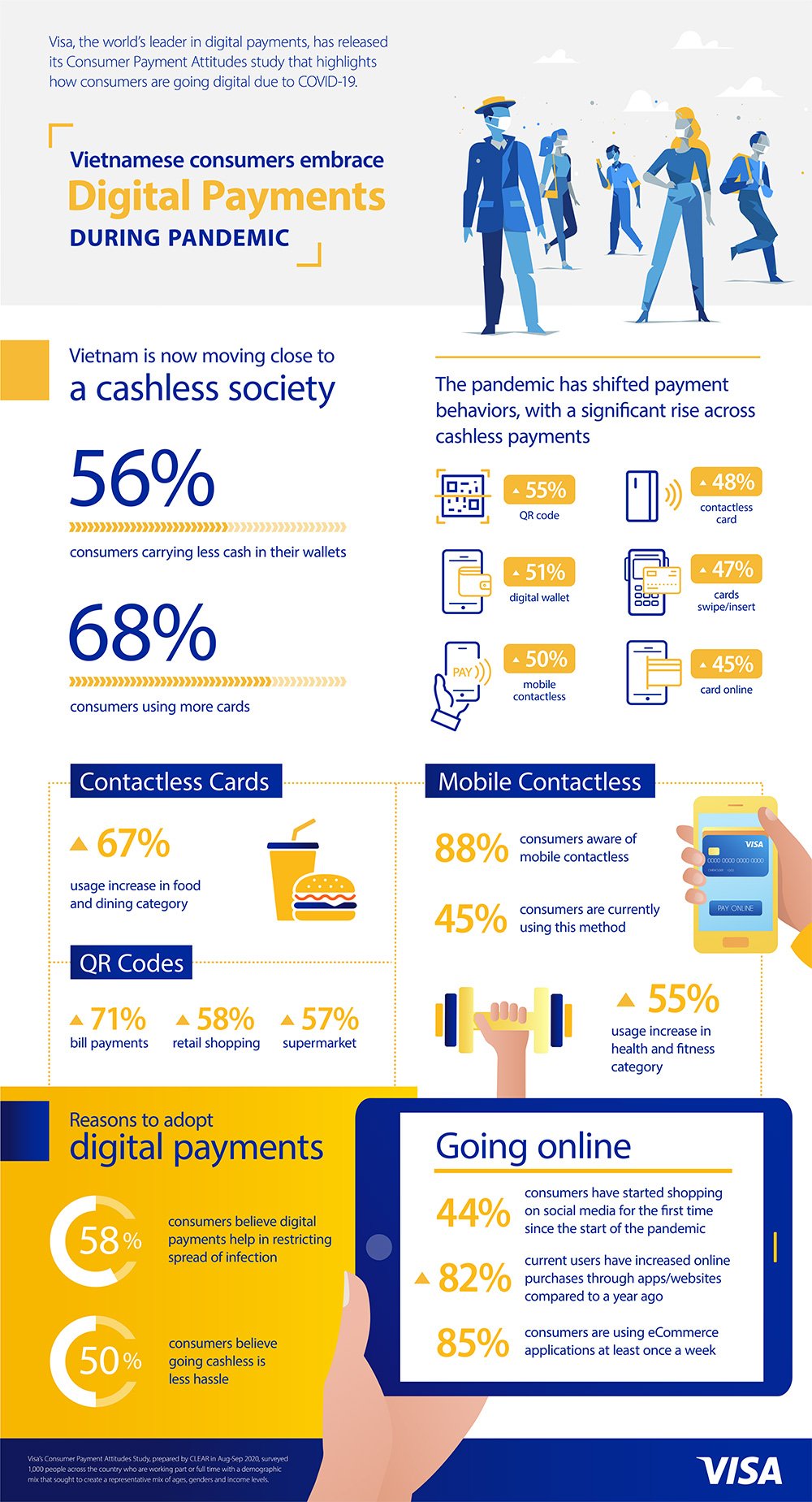 1 Visa's Consumer Payment Attitudes Study, prepared by CLEAR in Aug-Sep 2020, surveyed 1,000 people across the country who are working part or full time with a demographic mix that sought to create a representative mix of ages, genders and income levels.
2 VisaNet data Jan-Mar 2020 vs Jan-Mar 2021.
3 VisaNet data YOY growth Q4/2020 vs YOY growth Q1/2021.
4 Kantar e-Conomy SEA 2020 primary research commissioned by Google, Research was conducted in Indonesia, Malaysia, Philippines, Singapore, Thailand, and Vietnam. Fieldwork ran from 18/08/2020 - 02/09/2020 online via a 25-minute Computer Assisted Web Interviewing survey with a total of 4,712 respondents interviewed.
About Visa Inc.
Visa Inc. (NYSE: V) is the world's leader in digital payments. Our mission is to connect the world through the most innovative, reliable and secure payment network - enabling individuals, businesses and economies to thrive. Our advanced global processing network, VisaNet, provides secure and reliable payments around the world, and is capable of handling more than 65,000 transaction messages a second. The company's relentless focus on innovation is a catalyst for the rapid growth of digital commerce on any device for everyone, everywhere. As the world moves from analog to digital, Visa is applying our brand, products, people, network and scale to reshape the future of commerce. For more information, visit About Visa, visa.com/blog and @VisaNews.