Visa supports 'Cashless Day' in joint effort to promote non-cash payments in Vietnam
06/10/2020
Visa, the world's leader in digital payments, is celebrating this year's "Cashless Day" in a joint initiative organized by the State Bank of Vietnam, Tuoi Tre (The Youth) Newspaper, Vietnam E-Commerce Association, and National Payment Corporation of Vietnam. Held annually on 16 June, Cashless Day aims to promote the adoption of non-cash payments and aligns with the government's plans to drive Vietnam towards a cashless society.
Cashless payments present consumers with safer, more convenient ways to pay
Figures from Visa's Consumer Payment Attitudes study1 show cashless payment is on the rise, with 74 percent of consumers in Vietnam expecting to increase their use of cashless payment methods in the next 12 months. Through initiatives like Cashless Day, Visa continues to support this trend by delivering payment solutions that help ensure the safety and security of merchants and consumers, a commitment that is more relevant than ever with the onset of a global pandemic.
Madame Dang Tuyet Dung, Visa Country Manager for Vietnam and Laos, said: "Visa is delighted to be partnering with Tuoi Tre and key Cashless Day contributors to promote the adoption of digital payments in Vietnam. Through our commitment to providing cutting-edge payment technologies, and in our strong partnership with merchants and service providers, we are proud to be facilitating safer, more convenient, payment methods at a time when consumers need it most."
The global pandemic has created unprecedented challenges for how societies live and work, and this includes how we shop and make payments. Early indications suggest a rise in global contactless payments, and a shift in consumer spending toward every day, essential segments such as in grocery and pharmacy products. This shift reflects a greater need to avoid contact when making face-to-face transactions, with consumers looking to limit physical interaction during the checkout process.
Contactless payments provide a faster and more convenient way to pay without compromising on security. Contactless payments are protected by dynamic EMV® chip technology, which has proven to drastically reduce counterfeit fraud. As a result, contactless payment is fast becoming the preferred way to pay. In Vietnam, we are witnessing a trend in favor of contactless payment, with 85% consumers using this payment method more frequently than they did two years ago.
Beyond contactless payments, we are also seeing a shift towards digital-first commerce in a broader sense. Leading companies and brands are delivering cohesive, omni-channel strategies that seamlessly integrate mobile, online and in-store commerce, and with social distancing practices remaining a key priority, these channels look set to gain momentum.
As millions of buyers look towards digital commerce for food, everyday staples, and household essentials, initiatives like Cashless Day strengthen consumer awareness and incentivize faster adoption of digital payments.
Visa delivers a host of promotions and benefits for Cashless Day2
Working in collaboration with NextPay, NowFood, Saigon Co.op, Starbucks and CGV, Visa has announced a range of promotions, benefits, and digital payment options to consumers as part of the Cashless Day campaign. Activities surrounding the initiative also include free issuance of Sacombank Tiki Visa Platinum card, cashback incentives, and promotional discounts of up to 50% with major brands and retailers when paying with your Visa card.
In partnering with NextPay, an all-in-one payment platform for SMEs, Visa is also supporting acceptance of cashless payments among merchants and retailers. Cashless Day promotions will include 100 free Mobile Point-of-Sale (mPOS) terminals for the first 100 merchants to register for the program, as well as a 50% discount on mPOS terminals and one-year free use of NextShop – a business management software – for others who sign up. The collaboration is also offering a 70% discount for small merchants registering for a three year service package of the software.
In addition to providing opportunities for merchants to reach more potential customers, Visa is also partnering with NowFood to offer up to 30,000VND discounts on orders paid for using your Visa card. Among several other promotions being announced, consumers can also gain access to Visa rewards when spending over 400,000VND with Visa contactless payment at Co.opmart, get 10,000VND discounts for drinks in a single receipt at Starbucks by Visa contactless payment, and can purchase CGV movie tickets at a discounted rate when purchasing online or with Visa contactless payment. By joining the digital ecosystem created by Visa and its partners, consumers can benefit from a seamless digital payment experience.
In advocating Cashless Day, Visa continues to collaborate with partners to support Vietnam in its efforts to become a cashless nation. By combining the efforts of government departments, merchants, banks, media, the fintech industry and other stakeholders, the country's vision of instilling lasting cashless payment habits is swiftly becoming a reality.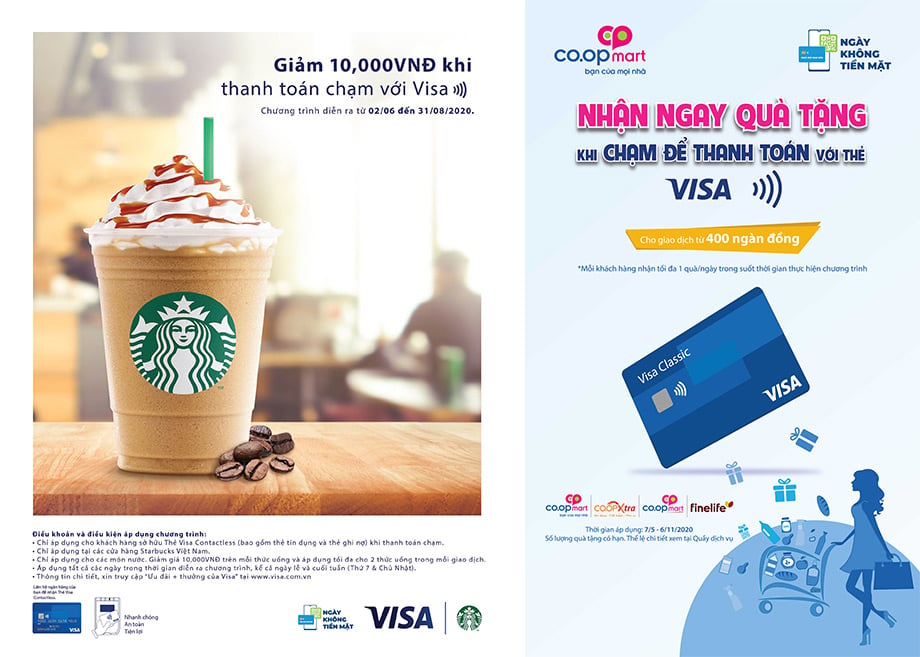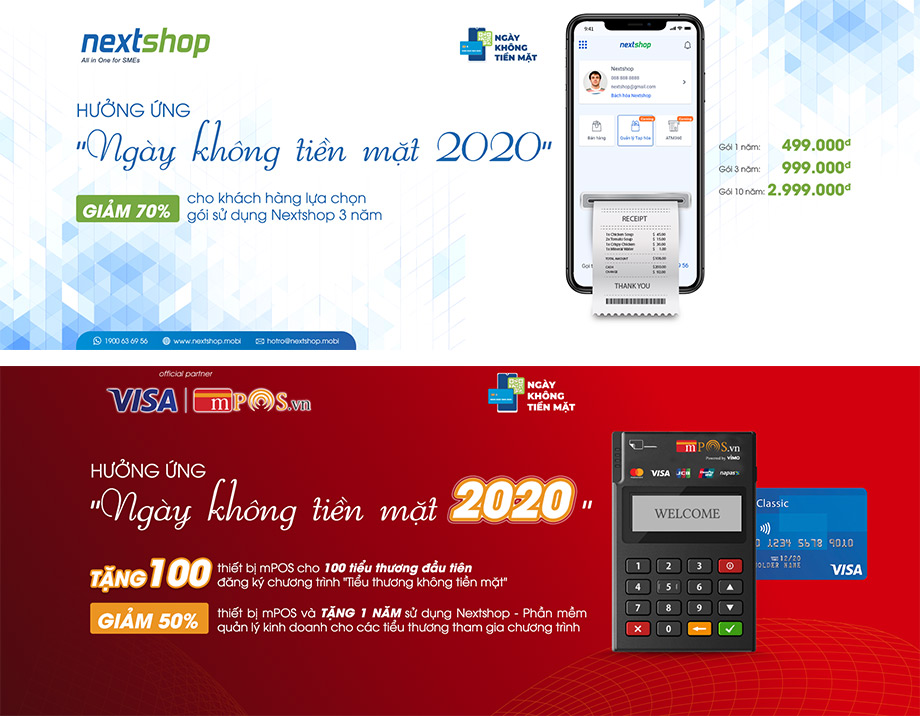 1 The study was prepared by ENGINE Insights in 2019, surveyed 1,020 people across the country who are working part or full time with a demographic mix that sought to create a representative mix of ages and genders.
2 Terms and conditions to apply. See individual outlets for more details.
About Visa Inc.
Visa Inc. (NYSE: V) is the world's leader in digital payments. Our mission is to connect the world through the most innovative, reliable and secure payment network - enabling individuals, businesses and economies to thrive. Our advanced global processing network, VisaNet, provides secure and reliable payments around the world, and is capable of handling more than 65,000 transaction messages a second. The company's relentless focus on innovation is a catalyst for the rapid growth of digital commerce on any device for everyone, everywhere. As the world moves from analog to digital, Visa is applying our brand, products, people, network and scale to reshape the future of commerce. For more information, visit About Visa, visa.com/blog and @VisaNews.