Visa to transform urban mobility with its renewed partnership with Ho Chi Minh City Department of Transportation
02/24/2023
Ho Chi Minh City tap-to-ride bus pilot to expand to 1,000 buses across the city

Visa, the world's leader in digital payments, has renewed its Memorandum of Understanding (MoU) with the Ho Chi Minh City Department of Transportation (HCMC DOT) to transform urban mobility across the city.
The partnership is aimed at developing modern public transit systems featuring open-loop EMV tap-to-ride technology, which allows riders to tap their existing payment cards, mobile wallets or wearables to pay for their transit fare, e-tickets, electric vehicle charging, toll fees and car-park fees.
Tap-to-ride is becoming increasingly popular, with Visa's network having processed over one billion tap-to-ride transactions on global transit systems in ten months1. Visa's recent Future of Urban Mobility Survey found that 91 percent of riders expect public transit systems to offer contactless payments, and nearly a third cited contactless payments as a top feature that would entice them to use public transit2.
Ms. Dung Dang, Visa Country Manager of Vietnam and Laos, said: "The use of contactless payments will improve the travel experience for all commuters, making journeys more smart, seamless and secure. Going cashless and paperless will also help to reduce the environmental footprint in the city. We are excited to continue our collaboration with the Ho Chi Minh City Department of Transportation to implement more acceptance points across the city as this is an important part of the nation's smart city agenda."
In Vietnam, the pandemic has altered payments in various aspects, including the leap from physical cards to contactless payments and from cash to cashless. According to the 2022 Visa Consumer Payment Attitudes Study3, Vietnam has seen an increase in contactless payment usage since 2021. 83 percent of consumers are aware of contactless transit cards, with usage ranging from mobile apps, prepaid cards, and debit cards. Four in five consumers said they used contactless cards for transit at least once a week or more often, with Gen X, Boomers, and the Affluent segment4 using contactless cards most often. Benefits of this digital innovation include a faster payment process compared with other methods and the safety of not carrying cash around.
HCMC DOT's first MoU with Visa saw contactless tap-to-ride payments rolled out in 50 buses in Ho Chi Minh City. Under the renewed MoU, HCMC DOT is aiming for a 20-fold increase to 1,000 buses. Visa and HCMC DOT will also continue to engage on initiatives and public policies that will drive smarter mobility across the city.
Mr. Tran Quang Lam, Director of the Ho Chi Minh City Department of Transportation (HCMC DOT), shared: "Smart mobility is a key strategic objective in the transformation of Ho Chi Minh City. We are very happy to be partnering with Visa to provide all citizens with more utilities through seamless and modern technology innovations. Ho Chi Minh City is adopting measures to develop a smart city, including the establishment of an interconnected online ticketing system for public transportation. The suggested plan states that by 2025, all bus public services would accept e-tickets. Hence, the use of cashless payment for public transit will be the "new normal" when Metro Line 1 begins service in 2024. The HCMC DOT recently worked with Visa to roll out EMV contactless payment technology on bus routes. We are happy to see Visa promoting and boosting digital transactions in transportation. The HCMC DOT and Visa will further collaborate and develop optimised strategies to implement cutting-edge technology to cut down on commuting times for service payments."
In the initial years of collaboration, the two sides engaged in a fruitful sharing of experiences. Last year, delegates from HCMC DOT visited Singapore to attend a knowledge-sharing tour organised by Visa. The trip demonstrated the organisations' efforts in supporting the future of smart mobility and opened for discussions on transit policy making and open-loop systems.
"Visa's experience in managing urban mobility projects in over 640 cities globally, and 50 cities in Asia Pacific, provides HCMC DOT access to global best practices in smart mobility. To expand universal support, Visa will open up Cybersource, our world-leading global payment management platform for enhancing digital payment infrastructure. This will afford all payments processed the security and fraud-screening capabilities of Visa, making smart transport safer and more accessible for all," said Ms. Dung Dang.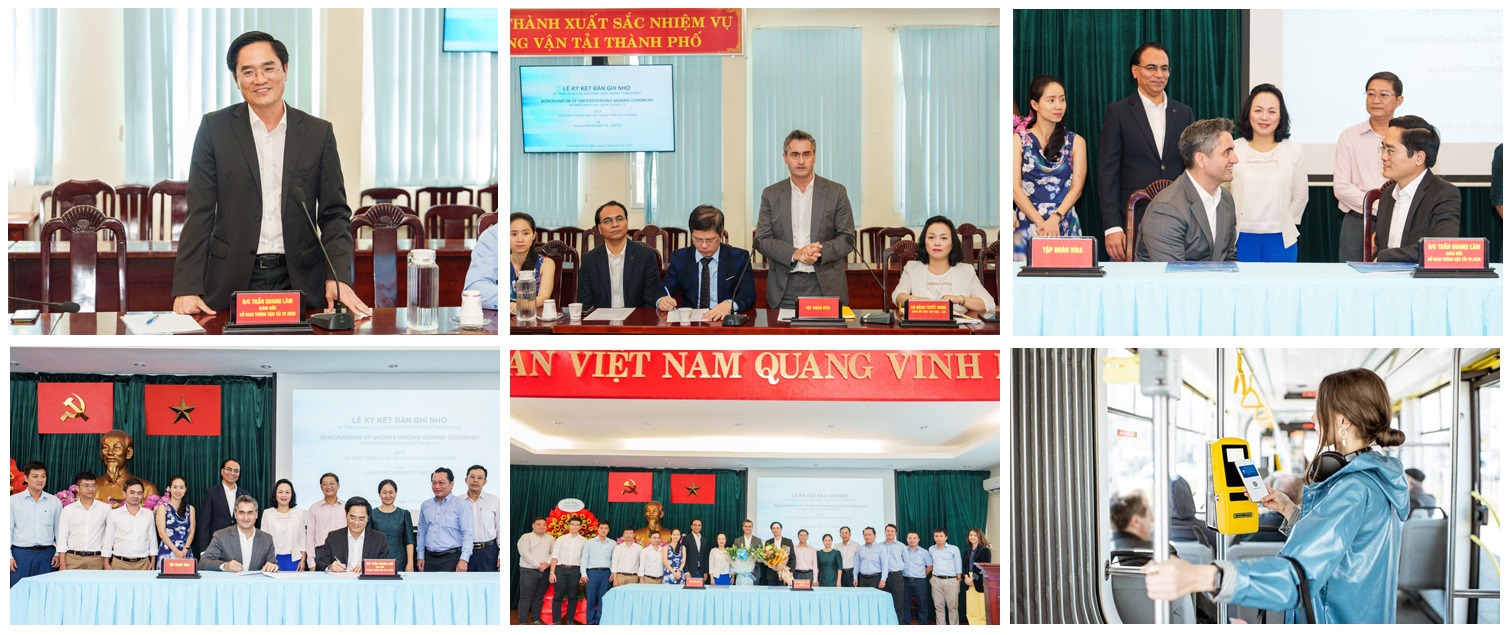 _______________________________
1"Ten months, one billion tap-to-pay transactions on public transit", Sep 2022, https://usa.visa.com/visa-everywhere/blog/bdp/2022/09/20/ten-months-one-1663702883942.html
2Visa's "Future of Urban Mobility" survey, May 2022, conducted by Wakefield Research among 11,550 adults who take public transportation in 14 markets: U.S., Canada, Australia, New Zealand, France, Italy, U.K., South Africa, UAE, Qatar, Kazakhstan, Peru, Saudi Arabia and Egypt.
3The Visa Consumer Payment Attitudes Study was prepared by CLEAR in Sep-Oct 2022, surveyed amongst 6,550 consumers in Singapore, Philippines, Malaysia, Indonesia, Thailand, Vietnam, and Cambodia. The study conducted online interviews with 1,000 Vietnamese consumers across the country who are working part or full time with a demographic mix that sought to create a representative mix of ages and genders.
4Monthly income from VND 16,000,000.
---
About Visa
Visa (NYSE: V) is a world leader in digital payments, facilitating transactions between consumers, merchants, financial institutions and government entities across more than 200 countries and territories. Our mission is to connect the world through the most innovative, convenient, reliable and secure payments network, enabling individuals, businesses and economies to thrive. We believe that economies that include everyone everywhere, uplift everyone everywhere and see access as foundational to the future of money movement. Learn more at Visa.com.