Consumer Pulse
What's up with consumers in Vietnam?

Consumer spending stays strong
Vietnam's GDP per capita growth stays resilient at around 6% despite uncertainties in the global environment 1. Rising real wages coupled with low inflation are sustaining healthy consumer spending in Vietnam with Q2 2017 consumer confidence at a 5-year high 2.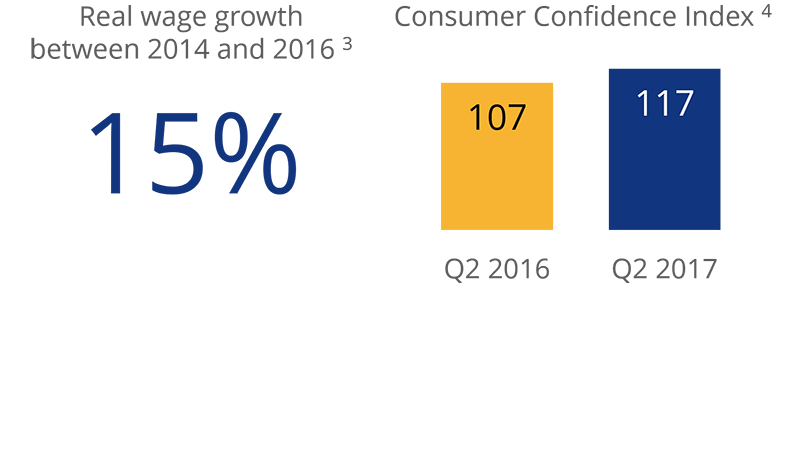 Rising urban stress
Urbanisation accelerates the pace of life in Vietnam. Together with other factors, this is placing more stress on the Vietnamese urban population 5.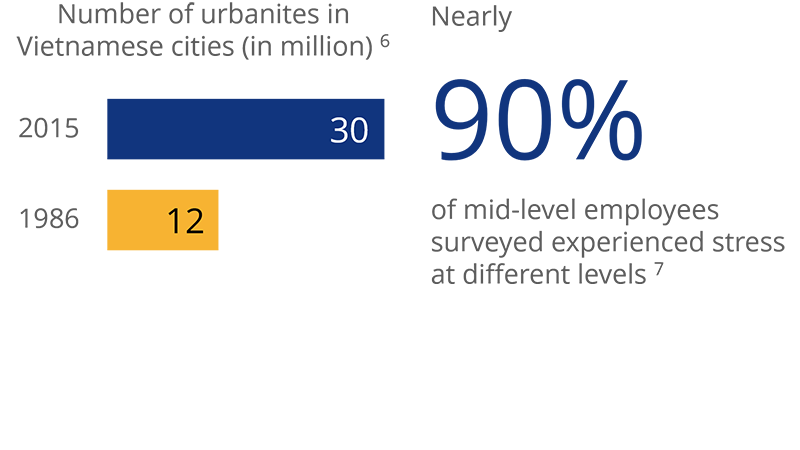 E-commerce on the rise
Internet usage, especially on mobile phones, continues to be on the rise. More Vietnamese are buying products and services online, putting the e-commerce market in Vietnam at a value of 1.8 billion USD in 2016 based on research by We Are Social.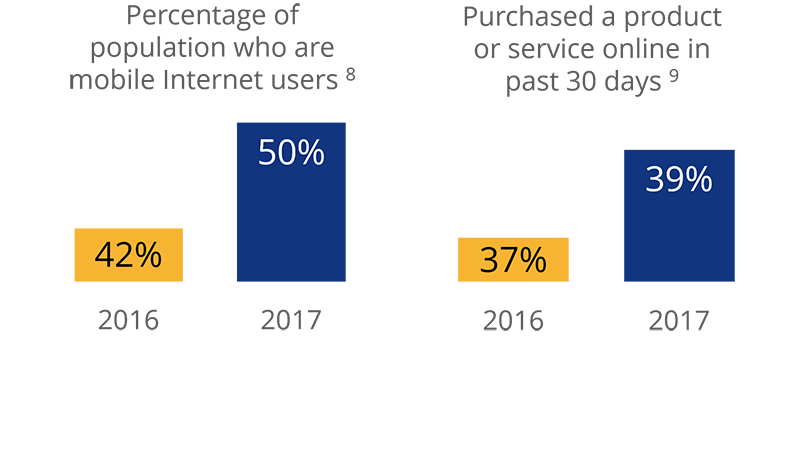 Technology fueling efficiency and productivity in life
As pace of life speeds up with more things to accomplish in their everyday life, Vietnamese are turning to technology to help them do things more efficiently and achieve more out of their time.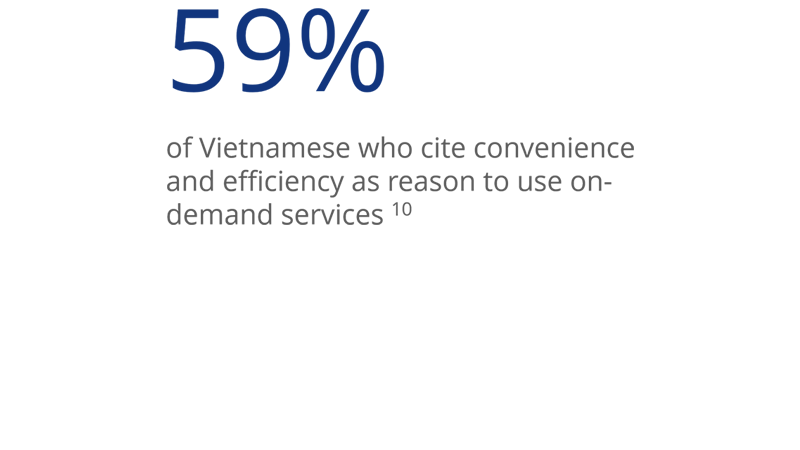 Based on observations from in-market ethnographers, the following new products/services seem to help address the above consume trend.
CheckIt
CheckIt is a mobile app that summarizes more than 1,000 books in various fields. Readers can get to the key messages of a book without having to read it cover to cover. CheckIt appeals to busy Vietnamese who are thirsty for more knowledge but have little time to spend.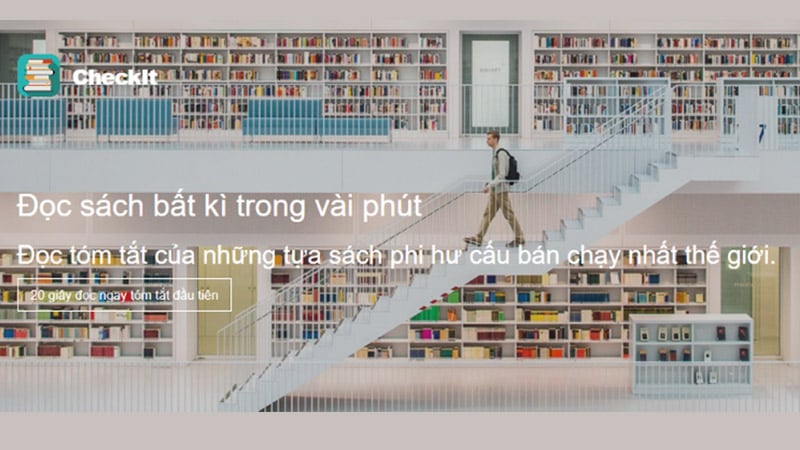 designbold
designbold is a simple and easy-to-use web-based graphic design tool that allows anyone to instantly create designs without having to learn any technical skills beforehand. With designbold, users can efficiently create and share their designs without having to navigate complicated software interface.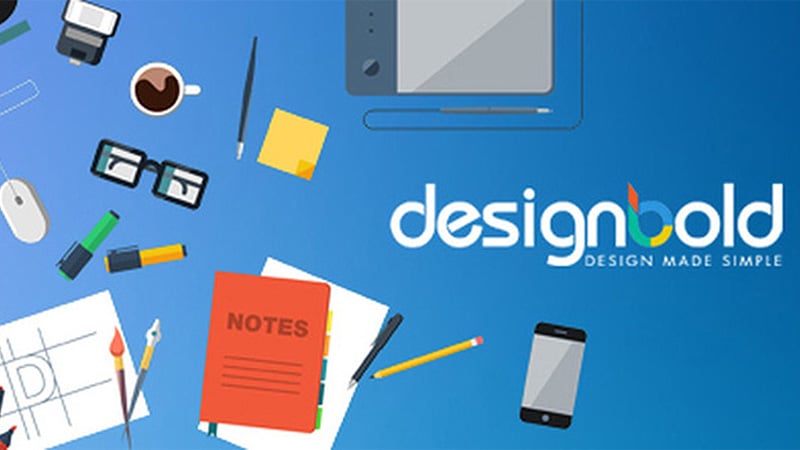 References
1. The World Bank In Vietnam, 2017, http://www.worldbank.org/en/country/vietnam/overview
2. World Bank: Taking Stock - an update on Vietnam recent developments, 2017, http://www.worldbank.org/en/news/press-release/2017/12/11/vietnam-sees-stronger-growth-momentum
3. World Bank: Taking Stock - an update on Vietnam recent developments, 2017, http://www.worldbank.org/en/news/press-release/2017/12/11/vietnam-sees-stronger-growth-momentum
4. Nielsen Vietnam Consumer Confidence Index, 2017, http://www.nielsen.com/content/dam/nielsenglobal/vn/docs/PR_EN/Web_PR_Vietnam%20CCI%20Q2%2717_EN.pdf
5. World Bank, 2017, http://www.worldbank.org/en/news/infographic/2017/06/06/managing-urbanization-in-vietnam-for-greater-economic-efficiency
6. World Bank, 2016, https://data.worldbank.org/indicator/SP.URB.GROW?locations=VN
7. vnexpress, 2016, https://e.vnexpress.net/news/business/nearly-all-mid-level-employees-in-vietnam-say-jobs-are-stressful-survey-3519306.html
8. We Are Social, 2017, https://www.slideshare.net/wearesocialsg/digital-in-2017-southeast-asia
9. We Are Social, 2017, https://www.slideshare.net/wearesocialsg/digital-in-2017-southeast-asia
10. Toluna SEA Payment Survey, 2016

You may also be interested in